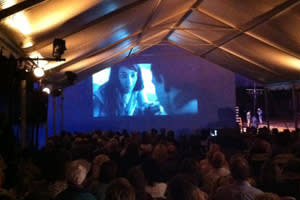 The Fourth Annual "Movies at the Mill" film event in Easton, held on September 22,  followed a different script this year with heavy rain blanketing a portion of the event, but its last act was as successful as ever.
Event organizers planned for the inclement weather, which didn't do much to deter a well-dressed crowd from enjoying films from around the world at the former Simon Silk Mill. A large, open-sided tent was placed in the main viewing area that provided shelter and a great spot for conversation for all in attendance.
The Mill itself provided a classic backdrop that not only allowed for a unique movie going experience, but also foreshadowed what will become a center for the arts beginning within the next year and flourishing in years to come.
This year's "Movies at the Mill" included "Building A Life," "Growing Up In The Ward," "Forest," "Blue Sheep Suit," "Easton Shorts," "Emotional Landscapes," "Before Breakfast ," and "Green Soldiers."
Films were shown on a portion of the wall of "Building Six," which, like the movies themselves, has stories to tell of its own; both past, present, and future. Through a public-private partnership lead by the Easton Redevelopment Authority and VM Development Group, the Simon Silk Mill will soon begin a transformation from one of industry, to one of creativity. Officials plan spaces at the mill for emerging and sustainable technologies, unique office, retail, and restaurant options, and diverse residential opportunities.
The initial phase of what will be called "Silk: A Creative Community" is currently undergoing final design and, permitting approvals, is set to begin construction in 2013. A new access road will be constructed through the complex and buildings on the site will be rehabilitated to allow for retail and commercial establishments on the first floor and residential opportunities on floors 2, 3, and 4. The future of "Silk" includes galleries, studios, a small theatre and a boutique hotel, among many other exciting improvements.
On Saturday night, however, all the attention was on the films at hand. The environment of "Movies at the Mill" was intimate, with many of those in attendance listening to the pre-movie jazz music of Floyd King, while enjoying food and beverages from select local restaurants including Black & Blue, MeGs & MaDs, Pearly Baker's Ale House, Ocean, Sette Luna Tuscan Trattoria and Sole Mio Italian Grille, as well as The Carmelcorn Shop, Sweet Girlz Bakery and Terra Cafe.
In addition to the films, this year's Movies at the Mill featured works by Vicki DaSilva.
"Movies at the Mill's" 2012 edition provided all the elegance of a true romance film with the early fall rain, select wines, and beautiful backdrop.
The final scene may not be written yet, but its one many in the local community can't wait to see.