I love fireworks, but I miss them every year on the 4th of July because we go to a friend's picnic instead. Not to worry! While Lehigh Valley has fabulous firework displays in Allentown and Bethlehem on the 4th, Easton holds out for a later date. Why, you may ask? Easton's big celebration is on Heritage Day.
This year Heritage Day is on Sunday, July 12 in celebration of a historic event. On July 8, 1776, Easton was one of only three towns where the newly signed Declaration of Independence was read aloud from the steps of the courthouse in Centre Square. The original building is long gone and the "square" is actually a circle, but the tradition continues.
The reading of the Declaration of Independence, held at noon, will be preceded by Town Criers in period dress debating for and against the colonies rejecting British rule. This portion takes place at 11:00 a.m. Audience participation is encouraged, so there will be lots of cheering and booing. There will even be a German translation reading afterwards at 3:00 p.m. in celebration of Easton's strong German heritage.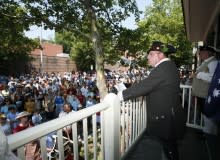 Filling in the day are dozens of performances, period crafters, reenactors from wars leading up to World War II, tours of historic locations, and lots of activities for kids.
At 4:30 p.m., the fun then moves down to a closed Larry Holmes Drive on the river and the party doesn't stop until 10:30 p.m. There, you will find plenty of food options and more activities for young and old alike. You can check out the full schedule here.
I know where I'll be at 9:30 p.m. because that's when the fireworks start! The display is one of the best I've seen and is even more special given the reflection on the water of the Lehigh and Delaware rivers.
The weather is supposed to be clear with a high of 88 degrees on Sunday so put on your red, white & blue and celebrate this special day in Easton. Oh, and you can leave your parking meter money at home. The on-street parking is free. See you there!