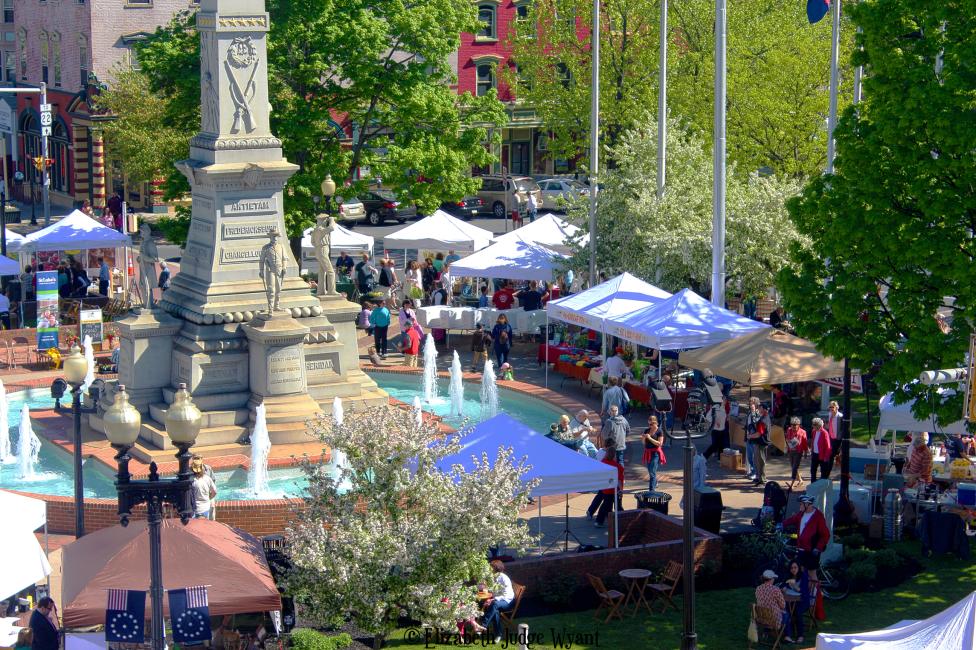 It's a big year for the Easton Farmers' Market (EFM) as they gear up for their 265th season in Easton's famous Centre Square (or "the Circle," as the locals call it). Known as America's oldest continuous open-air market, the EFM features more than 30 local producers offering everything from fresh produce to scrumptious baked goods and ethnic specialty foods. There are some exciting new events and programs on tap for 2017, including a Local Libations tent which will play host to a rotating schedule of craft breweries, hard cideries and meaderies. Weekly live music performed by local musicians provides the perfect background for a Saturday morning spent shopping, sampling and enjoying breakfast or lunch around the fountain.
Kids activities are also amping up this year with each Saturday of the month featuring a different activity. Look for craft days, kids' musical performances, puppet shows, educational workshops and even a kids' cook off! The market will also be participating in POP – Power of Produce, a shopping program geared toward little locavores. And if your children have an entrepreneurial spirit, you'll want to check out the Kids' Market Days beginning on May 27.
New events for 2017 include Funk Fest on May 20, a celebration of all things funky and fermented, think kombucha, kimchi, pickles, cheese, mushrooms, beer and more! On June 24, the market will be all abuzz with June BEE Jamboree. This sweet celebration will feature everything from bee keeping demonstrations to honey tastings, and a bumble bee tea party and parade. Kids are encouraged to wear bee costumes! All events will take place market district-wide, meaning there will be festivities at both the Easton Farmers' Market in Centre Square and the indoor Easton Public Market, located just a half block away at 325 Northampton Street.
For a full schedule of events and theme days, visit eastonfarmersmarket.com. And, be sure to follow the Easton Farmers' Market on Facebook and Instagram!