If you ever thought that youth of today lack dedication, perseverance, strength, or the ability and willingness to work together for a common goal, you've never been to a Drum Corps International competition.
The corps are made up of young adults aged 13 to 22, many of which will pursue careers in music. The grueling summer schedule these kids endure is on par with military boot camp. The organization's trademarked tag line "Drum Corps International is Marching Music's Major League" says it all, but unlike major league players, they often find their scarce down time sleeping on a gymnasium floor.
For over three decades Lehigh Valley has hosted the DCI Eastern Classic at J. Birney Crum Stadium in Allentown. Over the course of this two day competition dozens of drum corps from all around the country will delight and amaze all who attend. Usually held the first weekend in August, this "Tour of Champions" event is one of the last of the summer season before the DCI World Championship.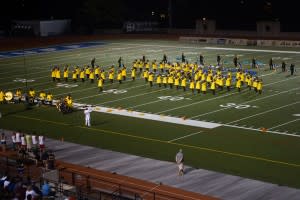 J. Birney Crum Stadium is uniquely suited to host since all the stadium seating is on one side of the field. No matter where your seat is, you'll never see the performances from the back side of the show.
So what can you expect when attending DCI's Eastern Classic? Spectacular pageantry, drum and bugle orchestration that will give you goose bumps, twirling and tossing of silks, rifles, and other props that defy laws of physics. And, you'll get to root for our hometown corps, The Cadets, which frequently earn the title of World Champions.
Those who have marched are corps members for life. Those that experience the shows are fans for life. Drum Corps International's Eastern Classic is a world class two day competition not to be missed.
In 2016, the DCI Eastern Classic will be held on Friday, August 5 and Saturday, August 6 at J. Birney Crum Stadium in Allentown. Gates open at 5 p.m. and the show begins at 6:30 p.m. Ticket prices range from $30-40 and do increase in price the day of the event. For details, or to purchase tickets, visit their website.