Contributed by Erika Liodice.
Last Sunday, my husband and I met up with some friends at Galen Glen Winery, in Andreas, for the Lehigh Valley Wine Trail's Spring Wine & Cheese Pairing. All nine member wineries participated in the weekend-long event, but we chose Galen Glen based on a recommendation that promised great wine and beautiful views.
This was our first visit to Galen Glen, and we quickly discovered that the "beautiful views" begin long before you arrive. The drive up to the winery cuts through countryside so lovely you momentarily forget you're in Pennsylvania, not Napa Valley. When you reach the top of the hill, you're greeted by a little yellow winery that overlooks the vineyard below and mountains in the distance. Inside, the tasting room welcomes visitors to drink in the incredible view along with the latest vintages. And the staff are eager to regale you with stories about the Troxell family, who have been farming the land for 200 years. Galen, a sixth generation Troxell, and his wife, Sarah, decided to leave their corporate jobs and combine their expertise — his in mechanical engineering and hers in chemistry — to turn the farm into a winery. Which is exactly what they did back in 1995.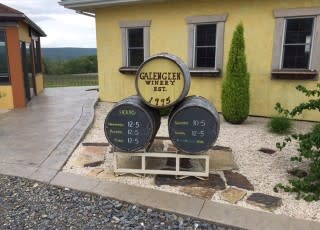 Galen Glen was built on Galen and Sarah's love of Riesling (fortunately, their land has the perfect micro climate for growing it). Lately, though, they've been getting a lot of attention for the success of their grüner vetliner and zweigelt, two Austrian varieties that earned "exceptional" three-star reviews from The Washington Post earlier this month.
The tasting cost $5 and allowed us to choose six wines (from a menu of 20) and enjoy them with two specialty pairings: a skewer of mild local German cheese, a strawberry, and a basil leaf to complement their whites and a wedge of local smoked gouda on a cracker to go with their reds. As a group, our tastes are varied — some of us enjoy the sweetest desert wines while others prefer the driest reds — but we were pleased to find that there were plenty of options to suit every palate.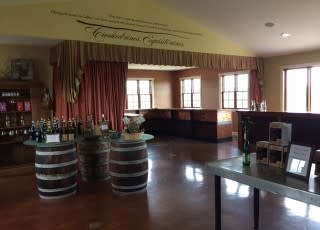 Galen Glen was founded on the belief that "wine should be tasted where it's grown with those involved in nurturing it from the soil to the glass," and we were happy to oblige. We purchased carafes of our favorites (Cabernet Franc and Riesling Fossil Vineyard, which is grown in fossils and is lovingly referred to as their "300 million-year-old rock star") and enjoyed them on the patio, overlooking the grapevines.
The Spring Wine & Cheese Pairing is one of many events that Galen Glen hosts throughout the season, which runs from April through December (a full schedule is available on their website). They love unique food pairings — like wine and cheesecake or wine and bacon — and they have "Food Truck" Fridays the last Friday of every month, through August. If you're interested in learning how the wine is made, you can participate in one of their complimentary walking tours through the vineyard and wine cellar. Of course, if you're just looking for an afternoon of great wine and beautiful views, that's Galen Glen's specialty.
Erika Liodice is a Lehigh Valley native and the author of Empty Arms: A Novel.