In this week's Foodie Friday, I had the opportunity to chat with Christian Filipos, Proprietor of Youell's Oyster House in Allentown. Youell's restaurant has been a longstanding Lehigh Valley tradition for the local community and beyond.
Unfortunately, devastation struck the restaurant on January 22, 2013 when it was destroyed by a fire. The only thing to survive was a bee hive that was housed on the roof of the building for honey-making purposes used in their cooking.
In true comeback fashion, Youell's returned to its Lehigh Valley location in March of 2014. The place was totally rebuilt and transformed from its previous dark interior to a modern atmosphere with honeycomb designs incorporated into the decor, reminiscent of the bee's hive that was saved.
Check out this short video to see for yourself:
https://www.youtube.com/watch?v=dlmmB7lXutg
To read more about the interview I had with Youell's Oyster House, see below (and check out the scallop recipe!):
Discover Lehigh Valley (DLV): How would you describe your cuisine? Youell's Oyster House (YOH): Fresh seafood. We say "Sea to Table" because of our ability to source our product directly and have it on our table soon after harvest.
DLV: What are some dishes that best exemplify your cooking style? YOH: Crabcakes, soft shell crabs (in season), cioppino, fresh shellfish and dayboat scallops.
DLV: To what extent are you involved with the local agricultural community, and does it influence how and what you cook? YOH: We incorporate local produce and meats, as well as organics into our "features" menu, which is the menu that changes daily and seasonally, based on availability of certain items. However, we rely on these products far less than traditional restaurants because our focus is on fresh seafood. So, local for us means Viking dry dayboat scallops from Barnegat Light, New Jersey. Or Chesapeake oysters tagged with yesterday as a harvest date. Or, perhaps "local" longline tuna, from the mid-Atlantic.
See the recipe for Pan Seared Scallops with Lime and Cilantro.
DLV: What are some of your favorite cooking ingredients? YOH: Stocks, reductions and infusions. They concentrate flavors and make them more complex, rich and deep.
DLV: When did you first develop an interest in the culinary arts? YOH: First of all, my family is Greek, so food is central in all social activities. And, that's an understatement. As a child I was introduced to many foods that were unusual, and enjoyed trying new things. My mother was always cooking a Julia Childs recipe, and my father was always thinking about the next meal while he was consuming the present one. As a teen I thought that I'd like to get into the culinary field because of my love of food, but struck that idea due to the crazy hours ... so, here I am anyway.
[caption id="attachment_19298" align="alignleft" width="320"]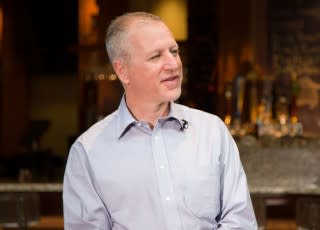 Christian Filipos Owner of Youell's Oyster House[/caption]
DLV: What are your "tools of the trade"? YOH: Several Henkel Classic knives. Must be sharp.
DLV: Do you have any kitchen traditions? YOH: I prefer to cook each course to order, and I like to make pan sauces when applicable.
DLV: Who are some of your culinary influences? YOH: My grandmothers. One Austrian. One Greek. Never used recipes or measured anything. Credit for the Lemon Sponge Pie goes to Nana.
DLV: What was your first job in the food service industry? YOH: Washing dishes and pots at boarding school (as punishment ... guess why I ended up at boarding school?), and fry cook at Long John Silvers, in high school.
DLV: Do have any advice for aspiring chefs? YOH: Establish a relationship with a mentor who respects your desire to learn.
DLV: Where did the name of your restaurant come from? YOH: It was originally called "Rice's". The Rice brothers operated an establishment that served oysters in the late 1800s. They changed the name to Rice's Oyster House, which was located in the 200 block of Northampton St. in Easton. The restaurant was sold to a gentleman named Bob Youell, hence the current name. The Youell family are still patrons today.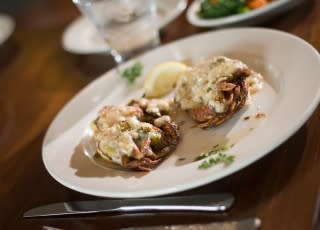 DLV: Did you have formal training or "hard knocks" university? YOH: No formal training. I didn't get into the business to become a chef, but to operate a business. Part of owning a business is understanding the details in every aspect of the operation. From dishwashing to executive chef, I'm pretty capable.
DLV: Who are your mentors? YOH: If I have a chef, or cook for that matter, that I retain for a significant amount of time, it means that we have a good relationship. I learn from good relationships.
DLV: What is the top selling item on your dinner menu? YOH: Our Maryland crabmeat dishes. These are the ones adopted when we purchased Youell's in 1984 and, we have not altered them at all. It's the basis of our menu. Everything else is an addition or compliment.
DLV: What do you feel sets you apart from other local restaurants? YOH: In most restaurants, seafood is a component of their menu to one degree or another. At Youell's, seafood IS our menu. This allows us to have product delivered every day, many times from the source directly.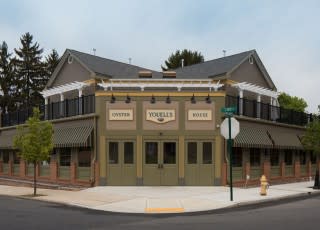 DLV: Besides your restaurant, what is your favorite Lehigh Valley restaurant? YOH: Right now I'm digging The Trapdoor, Maxims 22 and Bolete. Youell's Oyster House 249 Walnut St. Allentown, PA 18104 610-439-1203 YouellsOysterHouse.com
Cuisine type: Seafood Hours of operation: Mon. - Thurs. 4 - 10 p.m.; Fri. & Sat. 4 - 11 p.m.; Sun. 3 - 8 p.m. Lunch for special occasions only. Average dinner price range: $18 - $30 Children's menu? Yes Alcohol available? Yes Handicapped accessible? Yes Take-out service? Yes Wi-Fi accessible? Yes Credit cards accepted? Yes
[gallery ids="19282,19283,19286,19287"]