The instant I stepped foot into Porters' Pub & Restaurant in Easton, I felt like I had traveled to Ireland. One thing though, I've never been to Ireland, nor had I been to this place. I've driven past it many times and wondered what it was like inside. Did they have good food? Is there live music? What was the bar and clientele like?
Well, once inside, it is exactly how I envisioned a quaint little Irish pub, from the atmosphere of the stone walls to the wooden floors and bar area. The clientele was mixed which was nice. And, let me tell you, the food was great … definitely not your typical pub fare.
The first thing that really jumps out at you when you enter, are the pewter mugs hanging from the ceiling. It's part of their Mug Club, in which you need to drink 60 beers on their list of over 150. If you make it to 60, you get your name inscribed on your own mug and it's yours forever.
I met up with Larry Porter, one of the three brothers that own the place during a recent video shoot which you can check out here:
https://www.youtube.com/watch?v=YeXXjFFeIVQ
And, here's my one-on-one Q&A interview with Larry:
Discover Lehigh Valley (DLV): How would you describe your cuisine? Porters' Pub (PP): Everything you'd expect from a fine restaurant, but with value pricing.
DLV: What are some dishes that best exemplify your cooking style? PP: Alehouse Pot Roast, Lobster Weihenstephan
DLV: To what extent are you involved with the local agricultural community, and does it influence how and what you cook? PP: We use local sources wherever we can and frequently stock up at the Easton Farmers Market.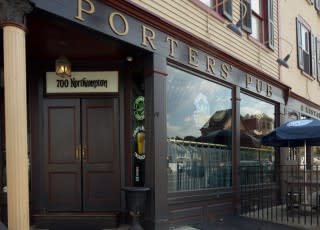 DLV: What are some of your favorite cooking ingredients? PP: Local wild mushrooms and legumes.
DLV: When did you first develop an interest in the culinary arts? PP: During high school.
DLV: What are your "tools of the trade"? PP: A good set of sharp knives.
DLV: Who are some of your culinary influences? PP: Anthony Bourdain and Wolfgang Puck
DLV: What was your first job in the food service industry? PP: Bussing tables and washing dishes.
DLV: Do have any advice for aspiring chefs? PP: Learn the basics. Good technique is paramount.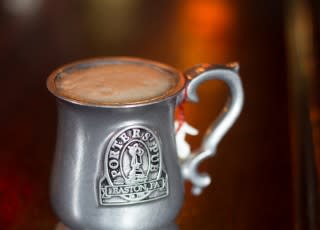 DLV: Where did the name of your restaurant come from? PP: It's out last name. We are three brothers ... note the plural possessive! Porters' Pub & Restaurant.
DLV: Did you have formal training or "hard knocks" university? PP: Formal training at the Academy of Culinary Arts in Mays Landing, NJ.
DLV: What is the top selling item on your brunch, lunch and dinner menus? PP: For brunch it's our Eggs Benedict; lunch is our Bachmann Tavern Burger; and dinner is our 7th Street Jambalaya.
DLV: What year was your restaurant established? PP: 1990, although the building was built in 1833.
DLV: What do you feel sets you apart from other local restaurants? PP: We are a publick house in the true sense of the word. We encourage conversation rather than watching TV. We have live music four nights a week. We serve good food at a value priced, and we boast one of the best beer selections in the Lehigh Valley. We also have an extensive Whisky and Bourbon menu.
DLV: Besides your restaurant, what is your favorite Lehigh Valley restaurant? PP: Black & Blue in Easton.
Porters' Pub & Restaurant 700 Northampton St. Easton, PA 18042 610-250-6561 www.porterspubeaston.com
Cuisine type: American/Gastro Pub Hours of operation: 11 a.m. - 2 a.m.; 7 days/week; 365 days/year Average price range: $9 Sunday Brunch; $8 Lunch; $17 Dinner Number of seats: 60 Sunday brunch offered? Yes Children's menu? Yes Outdoor dining available? Yes Alcohol available? Yes Handicapped accessible? Yes Take-out service? Yes Live music? Yes Wi-Fi accessible? Yes Credit cards accepted? Yes