Mark Prostko knows what running a restaurant takes. He's come through the ranks starting at the bottom as "chief bottle washer." He went to college to get his degree. And, he's been around the block in a kitchen or two.
When you think tearoom, you probably think of a lacey, frilly atmosphere where tea and scones are served at high noon. Well, that would be correct, at least in one of the dining rooms offered, but this place is so much more than that. From New Zealand Rack of Lamb to Caprese Ravioli and everything in between, this is one restaurant that should not be missed.
I had the chance to catch up with Mark and get his take on what makes Jessica's Tearoom at the Historic Weaversville Inn, located in Northampton, so special. HINT: A lot has to do with the love and drive that Mark has for the industry.
Here's a short video about the restaurant:
https://www.youtube.com/watch?v=IRqUsTsCqhg
And, here's an in-depth conversation I had with Mark, chef/owner:
Discover Lehigh Valley (DLV): How would you describe your cuisine? Jessica's Tearoom (JT): American Regional
DLV: What are some dishes that best exemplify your cooking style? JT: Schnitz und Knepp a tribute to PA Dutch, also Yankee Pot Roast, Maryland Style Crab Cakes, and Beer Can Chicken and Waffles
DLV: To what extent are you involved with the local agricultural community, and does it influence how and what you cook? JT: I do grow produce in my own garden. I don't work with any farmers directly, but I stop at roadside stands and farms in season.
DLV: What are some of your favorite cooking ingredients? JT: Fresh herbs, bacon, artisan cheeses, and an intangible item would be my smoker.
[caption id="attachment_19167" align="alignleft" width="320"]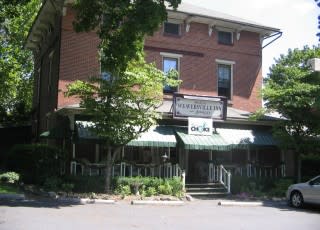 Jessica's Tearoom at the Historic Weaversville Inn[/caption]
DLV: When did you first develop an interest in the culinary arts? JT: I started as a dishwasher, then got promoted and the interest grew from there.
DLV: What are your "tools of the trade"? JT: Knives and gadgets, cook books, and trade magazines.
DLV: Do you have any kitchen traditions? JT: Just around the holidays; pork and sauerkraut and Thanksgiving turkey.
DLV: Who are some of your culinary influences? JT: Early on there was a restaurant in New Hampshire, The Blue Strawberry. The food was delicious and his cookbooks were without recipes, just ingredients and adjustable amounts to taste and loose procedure directions. I still barely follow recipes today and struggle to write a proper recipe. At the other end, Marcel Desaunniers from Williamsburg Va. was very regional and seasonal. His food was very clean and precise.
DLV: What was your first job in the food service industry? JT: My first job was as a dishwasher at Mr. Angus Steak House, which is now the Bethlehem Diner.
DLV: Do have any advice for aspiring chefs? JT: With age comes experience. The money is always the carrot, but that will come. Train under a chef that can teach you the basics and the fundamentals of cooking processes. These are tools that will carry and nurture you throughout your career, thus providing good food for the customer, busy restaurants and THE MONEY!
[caption id="attachment_19165" align="alignright" width="320"]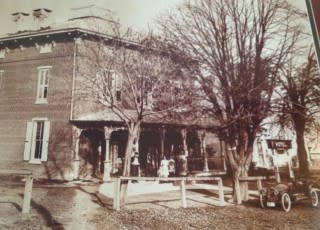 Historic Photo of The Historic Weaversville Inn[/caption]
DLV: Where did the name of your restaurant come from? JT: The Weaversville Inn was been a destination since 1835 and has a lot of history. Jessica's Tea Room was named after the previous owners' daughter.
DLV: Did you have formal training or "hard knocks" university? JT: I graduated from Johnson and Wales University, Providence, R.I.
DLV: Who are your mentors? JT: Jeff Fredricks, Magnolia's Vineyard and my peers, that made an impression, Shawn Doyle of the Savory Grille and Blake Morgan, Morgan's Restaurant.
DLV: What is the top selling item on your breakfast, lunch and dinner menus? JT: For breakfast, Bananas Foster Pancakes and House Made Sticky Buns; lunch, Puff Pastry Blossoms; and dinner, Yankee Pot Roast.
DLV: What year was your restaurant established? JT: The Tea Room was established in 2000. I took over in 2005 and added a dinner segment in 2006.
DLV: What do you feel sets you apart from other local restaurants? JT: I am the Chef/Owner. I see every dish that leaves the kitchen. This gives me plenty of confidence that the customer had a delicious meal. I also put a lot of "love" into my food. Others would call it passion. As I get older, I see myself putting a lot more emphasis on developing flavors in the dish.
DLV: Besides your restaurant, what is your favorite Lehigh Valley restaurant? JT: Savory Grille, Macungie.
Jessica's Tearoom at the Historic Weaversville Inn 6916 Weaversville Rd. Northampton, PA 18067 610-502-9881 www.jessicastearoom.com
Cuisine type: American regional Hours of operation: Tues. 11 a.m. - 4 p.m.; Wed. - Sat. 11 a.m. - 9 p.m.; Sun. 9 a.m. - 5 p.m. Average price range: $4 - 8 breakfast; $9 - 24 lunch; $16 - 28 dinner Number of seats: 135 Children's menu? Yes Outdoor dining available? Yes Alcohol available? Yes Handicapped accessible? Yes Take-out service? Yes Live music? Yes Wi-Fi accessible? Yes Credit cards accepted? Yes
[gallery ids="19169,19153"]