What does a wood burning oven, 10 gelato flavors served daily, and the freshest meat that is butchered by the chef all have in common? It's all what you'll find at Molinari's in Bethlehem, plus a whole lot more.
Molinari's is bringing Italian authenticity to Lehigh Valley with classic renditions of everyone's favorite pasta dishes and other entrees. You'll only find the freshest ingredients being used and a lot of them are from local businesses such as Seasons Olive Oil & Vinegar Taproom, Rodale Institute, and many other farms and orchards from around the region.
Our latest DISHcover video series features Molinari's, and gives you the insight on what you will find when you choose to dine with them. Check it out here (and see below for an in depth interview with Chef Michael Joyce and one of his signature recipes):
https://www.youtube.com/watch?v=ICZXiE2sH7o
Discover Lehigh Valley (DLV): How would you describe your cuisine? Molinari's (M): Inspired by Italy, but guided by the seasons while emphasizing the local landscape as expressed through our farmers and artisanal producers.
DLV: What are some dishes that best exemplify your cooking style? M: Our Chicken Saltimbocca - classic Italian dish, yet updated and refined by technique and showcasing our range of locally produced items … organic chicken, spinach, and mushrooms.
DLV: To what extent are you involved with the local agricultural community, and does it influence how and what you cook? M: Very involved. It's the reason I cook and to a very large degree, local & seasonal food stuff drives our menu. Also, it's my way of acting as a steward for the environment. What we choose to grow and eat is a very important agricultural act which will, unavoidably, influence the environment.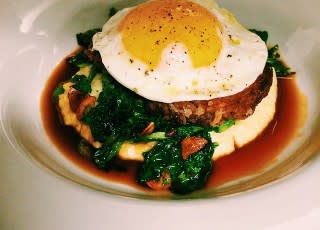 DLV: What are some of your favorite cooking ingredients? M: That's tough. There are so many, but here are a few: mushrooms (especially porcinis), tomatoes, herbs, kale, grains, the entire pig, and especially EGGS - my favorite food to cook.
DLV: When did you first develop an interest in the culinary arts? M: It happened very organically, first in high school and then later in college. It was never meant to be a career or a lifestyle choice … it just happened very naturally. I started to realize, that not only am I very comfortable in a kitchen, but I also love cooking for others.
DLV: What are your "tools of the trade"? M: Japanese knives, and spoons.
DLV: Do you have any kitchen traditions? M: At the end of every night, after the kitchen is fully cleaned, as a kitchen we enjoy a glass of wine/beer and discuss the day or just talk about food, music, art ... the things that inspire us ... new restaurants we want to check out or the best meal we ever had. Food is a constant ongoing discussion in the kitchen.
DLV: Who are some of your culinary influences? M: My grandmother. Thomas Keller. Dan Barber. Lee Chizmar. Alice Waters. Michael Pollen. Marc Vetri.
DLV: What was your first job in the food service industry? M: Busboy at Gregory's Steakhouse.
DLV: Do have any advice for aspiring chefs? M: Seek out the best chefs and work for them. Work hard. Travel. Eat. Read.
DLV: Where did the name of your restaurant come from? M: Family name of the owners.
DLV: Did you have formal training or "hard knocks" university? M: I sought out the best chefs in the country that held beliefs about food that were in-line with my own ideas of food and worked for them.
See the recipe for Sugo di Carne Toscano (Semolina Canestri Pasta with a Tuscan Meat Ragu)
DLV: Who are your mentors? M: Dave Robison and Chris Lee.
DLV: What is the top selling item on your dinner menu? M: Homemade Canestri pasta with our Tuscan meat ragu
DLV: What year was your restaurant established? M: 2011
DLV: What do you feel sets you apart from other local restaurants? M: Everyone that works in the restaurant shares a passion for food and hospitality, influenced by Italy while supporting local farmers.
DLV: Besides your restaurant, what is your favorite Lehigh Valley restaurant? M: Bolete.
Molinari's 322 E. Third St. Bethlehem, PA 18015 610-625-9222 www.molinarimangia.com
Cuisine type: Italian Price range: $30 dinner Number of seats: 95 Children's menu? Yes Outdoor dining available? Yes Alcohol available? Yes Handicapped accessible? Yes Take-out service? Yes Wi-Fi accessible? Yes No Credit cards accepted? Yes