Discover Lehigh Valley, along with participating hotels, is proud to partner with the Crayola Experience™ to bring you our Stay & Create package.
Like other Stay & Save programs (Ski, Game, and Scream), the Stay & Create package gives visitors exclusive access to savings. Participating hotels offer special rates on overnight stays, as well as one-of-a-kind ticket offerings. All pricing is based on double occupancy, but additional tickets to Crayola Experience may be purchased at the front desk of your selected hotel property.
Lodging options include a variety of Lehigh Valley hotels & inns. Be sure to click over to the full site for package details and pricing. For any questions or to book a stay, contact the hotels directly. Don't forget to mention that you're interested in Discover Lehigh Valley's Stay & Create package.
Visitors who book this travel package will have the chance to dive in and fully enjoy all of the aspects of the Crayola Experience. With more than fifteen attractions spanning the four floors of the newly renovated Crayola Experience™, there really is something for everyone.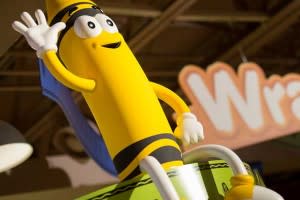 Design and print your own crayon label at Wrap It Up. Put your imagination to work at Modeling Madness. Bring your drawing to life at Doodle in the Dark. And, climb to your heart's content in the Color Playground, and that's only where the fun begins.
When you've had your fill of play, grab a bite to eat at Café Crayola, which offers an array of kid-approved menu options. Be sure to also check out Big Blue, the World's Largest Crayon, located just past the café.
Stop into the Crayola Store to mix & match your own pack of crayons or markers. You can even customize a two-pound crayon with your own name! The store is packed with all sorts of goodies that you won't be able to find anywhere else in the world.
While you're in town, be sure to take in all the fun that Easton, PA has to offer.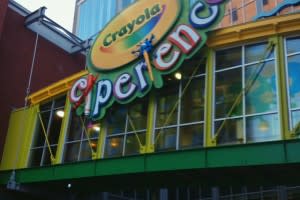 Take a stroll through Centre Square and enjoy a meal at one of the great restaurants in town. Catch a show at the State Theatre Center for the Arts, home of the Freddy Awards. Enjoy shopping at a variety of stores, including the Easton Outdoor Company, RE:find, and more. Visit the Easton Farmers' Market, America's oldest, continuous open-air market (be sure to check their schedule to see when the market is open). Head to the National Canal Museum at Hugh Moore Park and learn about the canal's role in the Industrial Revolution. Learn about the history of Northampton county and experience a special exhibit about Just Born, Inc., makers of PEEPS, at the Sigal Museum.
To make your visit even more memorable, plan it around one of Easton's annual festivals. A highlight includes Easton Heritage Day, which is held each July. This event celebrates the historic reading of the Declaration of Independence that took place in the city's "Great Square" on July 8th 1776. The event includes colonial reenactors, live music, food, vendors, and more.
Many food-related festivals are also held in Eason, including Garlic Fest, Bacon Fest, and more. Details on these tasty events can be found by visiting the Easton Farmers' Market website.