What has 68 pages, is full color, and read all over?
That would be Discover Lehigh Valley's Official Visitors Guide! It's a fact. Last year people from all 50 states, the District of Columbia, Alberta and Ontario Canada, Germany, Italy, Poland, Russia, Finland, India, and many other countries requested a guide be mailed to them.
What makes it so popular?
The guide is jam-packed with useful information and interesting articles. This year you can find stories on Allentown's Rebirth, the Karl Stirner Arts Trail in Easton, Bethlehem's ArtsQuest™ Center at SteelStacks™, the Lehigh Valley Ale Trail scene, suggested itineraries for couples and families alike, and so much more.
The Stay & Save section offers package opportunities for Sands® Bethlehem, Crayola Experience™, Bear Creek Mountain Resort and Blue Mountain, Dorney Park & Wildwater Kingdom, and places to get your scare on while investigating rumored haunted locations.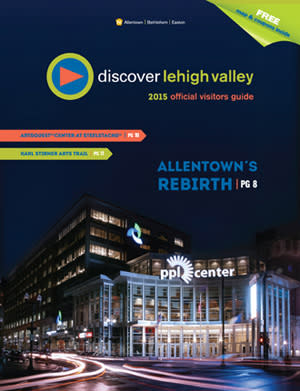 In addition to great stories and packages, the guide offers listings of places to Play, Stay, Shop, Eat, and Discover. You can also stay up-to-date with the most popular Events in the region in the Calendar section. And, if you are directionally challenged, there are maps of each of the main cities of Allentown, Bethlehem, and Easton, along with an overarching Lehigh Valley map that highlights the Lehigh Valley Wine Trail and the covered bridges of Lehigh Valley.
If that's not enough, we've also included 36 coupons that can be used on things like hotel stays, restaurants, and some of Lehigh Valley's most popular attractions.
You can pick up a copy at one of our visitor centers located at: Bethlehem Visitor Center, SteelStacks, 711 E. First St., Bethlehem Historic Bethlehem Visitor Center, 505 Main St., Bethlehem Keystone Welcome Center at Lehigh Valley, Delaware River Bridge Toll Plaza, 1400 Cedarville Rd., Easton Lehigh Valley Visitor Center – Allentown, America On Wheels, 5 N. Front St., Allentown Lehigh Valley Visitor Center – Easton, Sigal Museum, 342 Northampton St., Easton Nazareth Area Visitor Center, Nazareth Area Chamber of Commerce, 201 N. Main St., Nazareth Whitehall Area Visitor's Center, Whitehall Area Chamber of Commerce, 1457 MacArthur Rd., Ste. 280, Whitehall
They're also at more than 60 locations throughout Lehigh Valley including most hotels and the Lehigh Valley International Airport. Or, you can call us at 1-800-MEET-HERE or fill out our request a free brochure form here.
What's your favorite Lehigh Valley location? Who should we include next year?