Contributed by Erika Liodice.
Having lived in Lehigh Valley my entire life, sometimes I feel like there's nothing left to discover. So when my husband and I signed up for the Wildlands Conservancy's canoe trip to Island Park on the Lehigh River, I was expecting a nice paddle with river views I've seen a million times before.
On Sunday morning, we met our river guides at the Hope Road access point in Easton, where we picked up our canoes, paddles, and life vests and got a quick refresher course on how to steer our boats. We began the four-mile loop paddling upstream to the tip of Turkey Island, a small landmass of dense foliage and Sycamore trees (but no turkeys). We let the current carry us downriver along the island's southern edge, as we listened to the guides' stories about how the river was once used to float unmanned boats full of coal down to Philadelphia from the coal region up north.
As the Lehigh Valley's premiere, nonprofit land trust, the Wildlands Conservancy and its guides are dedicated to preserving our land and the Lehigh River watershed and educating the public about its history and ecological importance. They host a number of boating adventures throughout spring, summer, and fall so people can enjoy the ever-changing landscape.
[caption id="attachment_24434" align="alignleft" width="320"]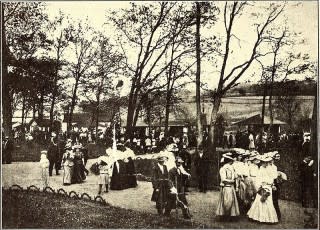 Island Park circa 1880[/caption]
When we reached Island Park, we circled around the eastern end of the island, where we caught a glimpse of the old Locktender's house and heard tales about the miraculous engineering feat that was the Lehigh Canal's 52 locks, which allowed the river to overcome an elevation difference of over 350 feet.
At the northeast corner of the island, the guides led us into a little channel that's practically invisible, unless you know it's there. We paddled, single file, to the island's watery center, where we discovered a sprawling pond covered in gigantic waterlilies with velvety leaves bigger than my head. Though the lilies had bloomed back in June, a few tall white flowers remained.
The guides regaled us with stories about the amusement park that once stood where we were floating. As I looked around, I tried to imagine the Ferris wheel, merry-go-round, and roller coaster that attracted visitors from New York City over a century ago. The park closed in 1919 after ice jams destroyed the trolley trestle that transported visitors to the island, and the rides were moved to other parks. Today, not a trace of Island Park's vibrant past remains, the memories swallowed up by the landscape.
As we paddled back to our launch point, I couldn't help but wonder how I've lived here my entire life and never knew about Island Park. Just when I thought there was nothing left to discover, a simple canoe trip reminded me that you never know what's just around the next corner.
Erika Liodice is a Lehigh Valley native and the author of Empty Arms: A Novel.