Three cities. Multiple historic towns. One Bethlehem.
Founded by Moravians as a communal society in 1741 and named on Christmas Eve that year, Bethlehem, the "Christmas City," is celebrating its 275th anniversary this year with a proud sense of community.
Every December, travelers flock to Bethlehem to enjoy the sparkling white lights that adorn the original Germanic stone Moravian structures and lighted evergreens at every major intersection. They shop along tree-lined streets for Moravian stars, beeswax candles, and other historical ornaments or soak up the sights and wonders at Christkindlmarkt, a German-style holiday market.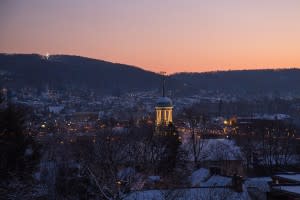 Guided by the glow from the 81-foot-tall steel "Star of Bethlehem" radiating from atop South Mountain, visitors will be immersed in the rich musical traditions of the Moravians, view miniature crèches – known locally as putzes – found in churches and homes, and take home a Christmas memory from the City that knows how to do Christmas.
But Bethlehem is more than the Christmas City, offering year-round entertainment and diversions, from annual events such as Musikfest, Bach Festival, and Celtic Classic, to an ever-expanding menu of performing arts, film, family programs, and festivals at SteelStacks™, a 10-acre community campus at the former Bethlehem Steel plant on the city's South Side, and the neighboring Sands® Bethlehem.
In addition to the city, the congregation of Central Moravian Church, in the heart of the Historic Moravian Landmark District, also marks its 275th anniversary this year. The congregation first worshiped in the Saal in 1742 on the second floor of the Gemeinhaus or community house, now part of the Moravian Museum.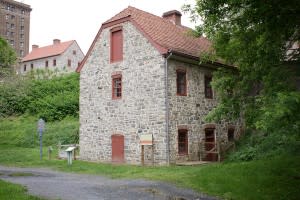 In 1751, the growing congregation moved to the Old Chapel, which served as a place of worship for 55 years. In April 1803, the cornerstone was laid for the new sanctuary – making it the largest church building in Pennsylvania by the time it was completed in 1806.
Discover Bethlehem as it turns 275 by honoring its past and looking to the future. For more information about Bethlehem's 275th anniversary and special events, visit BethlehemAnniversary.com.