Over the last couple of years leading into the Lenten season, I've written a few blogs on pizza (okay four to be exact, but who's counting). These blogs have named my "Top 10," some local legendary pizza places, and even a few obscure ones. Regardless of what my lists entailed, they always opened up a can of worms and some great social media debate.
Once even some great banter where a woman told me I was crazy as Domino's had the best pizza in Lehigh Valley. Nothing against the Domino's franchise, but come on, really?
Needless to say the argument ended quickly as I refused to get into it with someone who honestly thinks Domino's offers the best pizza in our area.
A self-proclaimed pizza snob I'm always on the hunt for a good tray (yes, "Scrantonites" call it a tray). What makes me a pizza snob you ask? Being a native of the Scranton area (Blakely exactly) I have had the privilege of some of the greatest pizza in the world. For anyone who disagrees, even the nationally known Parade Magazine did a feature on the best pizza being found in Old Forge, Pa a couple of years back.
So as some celebrated Ash Wednesday yesterday, and others begin to prepare to hear the famous words "Remember you can't eat meat on Friday,"  I'm not preparing a "Best of List" again, rather a list of some new places I have discovered over the past couple years that I think offer a good tray (yes a tray) for one reason or another.
Due to my son having indoor football practice on Friday nights in Macungie, we seem to have made Salvatore's Pizza on Main St. in Macungie our Friday night home. The pizza offers good flavor and a good base at a modest price.
I've heard all about Paese Mio on Tilghman St. in Allentown for years. Finally, I heeded those words of wisdom and I'm glad I did. Here's another good pie that offers a nice sauce and a perfectly done crust. Caution the ceilings are low, so anyone of significant height be prepared to duck. But hey, you aren't standing when you're eating dinner are you?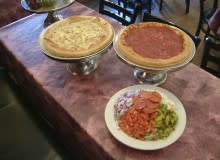 Isabella's Pizza on Rt. 329 (actually Nor-Bath Blvd.) is a nice little place to discover if you haven't already. Crust cooked to perfection and as cheesy as pie you will get this pie is not to be missed.
Add some garlic knots to your order and you have a little piece of heaven. I'm sure most have been to Colonial Pizza & Spaghetti House in Easton regularly, but being a resident of the western half of Lehigh Valley don't have the luxury of getting their pizza as often as I'd like.
This pizza is reminiscent of Pappas Pizza in Scranton so it automatically holds a special place in my heart. A smaller pie that offers superb flavor along with an "old-school" vibe Colonial is worth the trip for this western Lehigh Valley resident.
Last, but definitely least, especially if you are looking for diversity, you must check out The Bethlehem Parlour. From stuffed crust pizza, to those with a variety of toppings, or just your regular pie they got you covered.
So, there you have it Lehigh Valley, a couple newbie places in my world of pizza. I hope I spared you from eating fish sticks every Friday with your family. Trust me the pizza seems to go much better with an adult beverage than the fish sticks. Bon Appétit.