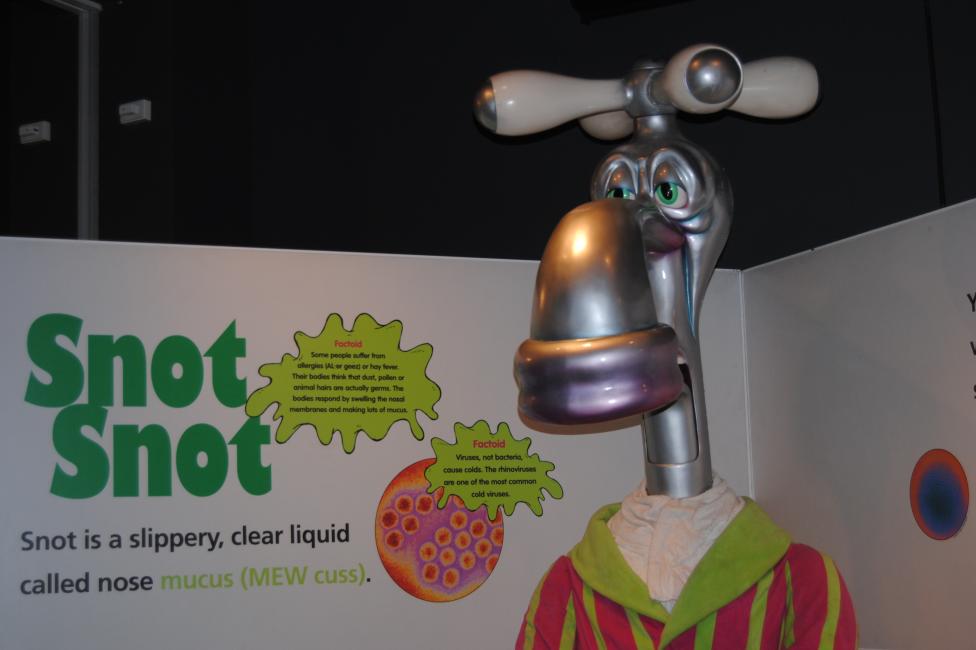 Urine: The Game, Burp Man, Toot Toot and Yu Stink. I know what you're thinking, that's gross. No that's Grossology: The (Impolite) Science of the Human Body.
This fascinating exhibit which is part of the Year of the Human Body runs through September 2 at the Da Vinci Science Center. The Grossology exhibit lets visitors explore why their bodies produce the "stuff" that makes us cringe. My wife and I were fortunate enough to have the opportunity to take our son, Noah and his cousins, Abby, 11, Keegan, 7, Josh, 7, Zoie, 5, and Abby's friend Grace, 12, to this exhibit and man were they impressed. So impressed that Abby and Grace decided to help with this blog. So here's a quick read through the eyes of Abby and Grace.
Are you a curious person? Then you better check out the Da Vinci Science Center in Allentown, PA. We just went here and had the greatest time ever. Let us tell you about some of the attractions we saw there. We went to the new exhibit, Grossology. It was really gross (duh!), but it was cool!

There was a hose leaking snot (robot) that talked, a belly scanning display that talked to you about digestion, and a smell machine. We got to smell a butt, armpit, mouth, and feet (If you have a sensitive nose or stomach, stay away from this attraction).

We also went to a game upstairs in a lab. We had to spray pretend urine (dyed water) into a cup. We had to fill the fake pee up to a certain point in the cup under 45 seconds to win (we didn't win). After that, we made paper airplanes and tested them in a mini wind tunnel.

Also, we went to a machine that was specially designed to help people make paper airplanes. Those were our first successful paper airplanes made. There were weights with ropes that we pulled, a robot dinosaur that we controlled with joystick, and a ball track that we could make. Downstairs, there was a tunnel we went through (lights on or off), a mini aquarium, a weather TV we could see ourselves on, a shadow room where our shadows froze, an Inquiry Island, and a hurricane simulator! There was a nice café to relax in too. At the end, we went into the gift shop. Overall, we had a really good time!

It was such a great time that the Morning Call wrote an article on the exhibit too. Check out photo six, that's us.
Did you get all that? I hope so. If not check it out for yourselves. The Da Vinci Science Center is open Monday-Saturday, 9:30 a.m. - 5 p.m. and Sunday, 12 - 5 p.m.