This exhibit features six themed environments, each offering an engaging area to explore and participate in interactive exhibits designed to entertain and educate groups.
Base Camp will allow visitors to start their adventure by climbing aboard an off-road vehicle, where they will set out to explore the ecosystems featured in the exhibit.
The Polar Regions will guide guests through an interactive cabin, where they will learn what scientists need to survive in harsh Arctic conditions.
Upon entering a replica deep-sea submersible, visitors will explore the Ocean, where they will discover all the creatures and events beneath the ocean's surface.
From under the ocean to the top of Mountains & Inside Caves, visitors will climb a mountain, where they will learn about animals that make their homes here. They will also explore the inner workings of a cave and learn all about crystals.
[caption id="attachment_2164" align="alignleft" width="300"]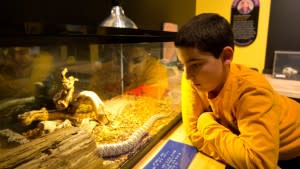 Discovering reptiles at Da Vinci Science Center[/caption]
Next stop are the Rain Forests, where visitors will enter a themed outdoor laboratory to study the ecosystem and animals calling the rain forest home.
No trip is complete without a journey to the African Savannas. Here, guests will round out their undeniably unique journey with a simulated balloon ride far above the African Savanna. They will witness animal migration and the methods scientists used to track African wildlife.
Groups are set for a wonderful experience as the National Geographic's Earth Explorers exhibit leaves its current home at The Museum of Science and Industry in Chicago and makes its East Coast debut sometime between May and September 2015 in Lehigh Valley at Da Vinci Science Center.
Please stay tuned for exact dates. If you have additional questions, please feel free to contact Marc at marc@DiscoverLehighValley.com.
[gallery ids="2166,2167,2168"]