I think most of us have been touched by someone with a horrible disease at some point in our life, whether it's been yourself, a family member, a bestie, or your next door neighbor. I'm also pretty sure that most of us have donated to a charity at one point or another. Typically this blog is reserved to talk about experiences we've had in Lehigh Valley, and while this one incorporates a charity-related request, it will also bring experiences you probably won't forget.
So, let me start with the pertinent charitable request. In an effort to try to stomp out cancer, the Leukemia & Lymphoma Society (LLS) recognizes a Man and Woman of the Year with a campaign that recognizes the candidate with the highest number of "votes" (every dollar raised = one vote). This is done over a 10-week competition and I just happen to know one of the candidates participating this year.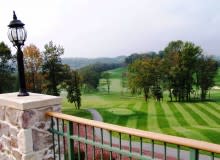 Judy Brooks, general manager of Woodstone Country Club, is in the running for the designation of "Woman of the Year." If you don't know Judy, let me tell you a little bit about her. She's a petite little thing; I'd be surprised if she reaches 5 foot tall. She may be small, but she sure is mighty! When Judy goes on a mission, there's no stopping her. She's also an extremely diverse individual. She graduated with a degree in Education from the University of Iowa, although she's far from being a small town girl.
She's lived abroad in both Hong Kong and Thailand and is able to speak Thai, which is a rather interesting tonal language. She served our country in the Air Force. She has a son in college who is studying in Australia. She serves on the board of directors for Skal of Northeast Pennsylvania, whose members are international professionals in the travel and tourism industry. Skal is where I got to know her the best and I enjoy each and every conversation we've had and always look forward to the next.
Now, here's how you can create your memorable experience. In an effort to raise money, Judy is hosting two events which will both be held at Woodstone Country Club in Danielsville, Pa. If you've never been to Woodstone, this is the perfect opportunity to check out a top notch facility in the region. Besides a beautiful 18-hole golf course, there's also a restaurant, banquet facilities, pro shop, a lodge with unique and spacious accommodations, and a lounge. The grounds are immaculately kept and perfect for any type of event.
Judy's first event will be held on April 25, 2014. She's looking to "Give Cancer The Boot" with a traditional cowboy rodeo, complete with pig roast, mechanical bull and great country music from Scott Marshall & the Hillbilly Souls featuring James Supra. Tickets are just $50 and can be purchased by calling 610-760-2777 x200 or by e-mailing info@woodstonetickets.com.
The second event will be held on May 5, 2014. This will be your chance to experience the golf course with her "Driving For A Cure" event. Details for this event will be released shortly, but if it's anything like the functions I've been to at Woodstone, you won't want to miss it. Plus, the course is absolutely spectacular!
I know I can't wait to tackle the mechanical bull. Yee Haw! Won't you join me in supporting Judy? Please take the time and visit her LLS donation page here.
[gallery ids="18764"]