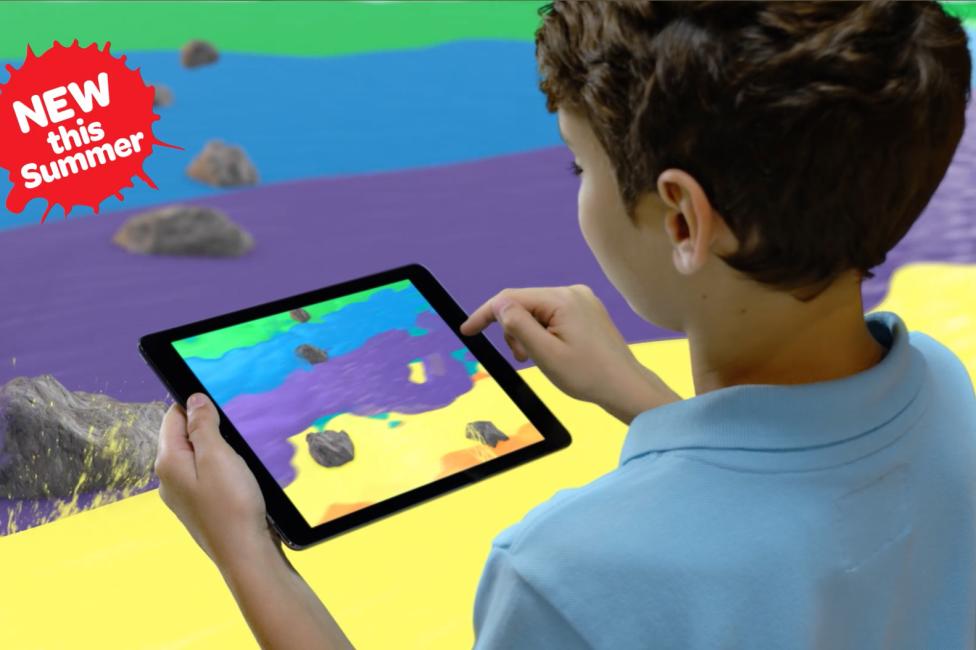 The lab's in colorful trouble, and it's up to you to save the day! In Crayola Experience's newest attraction – Adventure Lab – guests enter Crayola's Color Lab only to find it's in all shades of trouble thanks to several mischievous crayon characters. 
With the help of a "magic" tablet, guests embark on a series of digital and physical quests, accompanied by Crayola personalities Denny, Rod, Scarlet, Orchid, and Gus. Of course, these playful crayons – Denim, Goldenrod, Scarlet, Orchid, and Asparagus – sometimes help but often hinder their efforts.
At the popular downtown Easton destination, families explore a world of color and creativity with 28 hands-on activities, all inspired by Crayola products and technologies. New this summer, Adventure Lab is the first attraction experience that incorporates game play, immersing guests in a whole new interactive environment.
Each visitor to the Color Lab will be given three challenges. Whether it's navigating a digital, flowing river of melting wax, fixing a broken Invisible Ink Machine, or uncovering an ancient recipe for the color Moonglow – there's always a new adventure to be had.
"Much like the fictitious scientists in our Adventure Lab, we are always experimenting with new ways to inspire our guests," said Victoria Lozano, Senior V.P. and G.M. of Crayola Attractions and Retail. "Adventure Lab is the first of its kind for us. It's an attraction that truly puts kids in a world that's part fantasy and part reality, and we can't wait to see them explore it!"
Regular admission to Crayola Experience is $19.99 at the door or $16.99 online. Save $4 on your ticket by clicking here. Children under 3 are free. For tickets and info, go to CrayolaExperience.com.