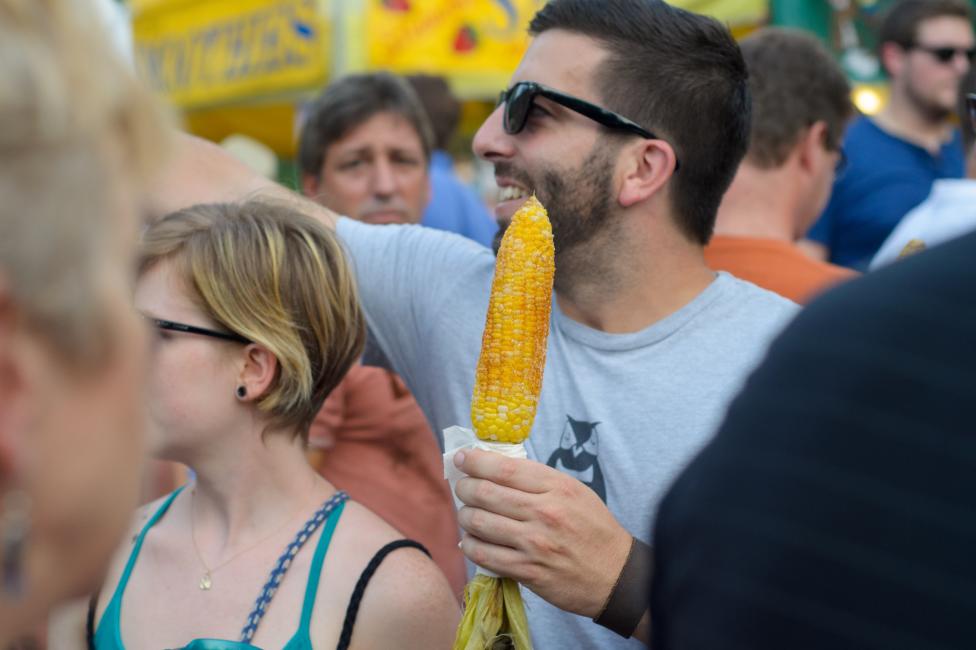 It's no secret that Musikfest offers up much more than just concerts. Over the course of the 10-day festival, visitors have the chance to experience immersive art installations, browse local vendors, and of course - eat plenty of tasty treats.
With 35+ food vendors spread throughout the festival grounds, making the decision of what to eat can be tough! We've taken on the impossibly difficult task of sampling our way around the new food vendors of the 'Fest to bring you some suggestions of can't-miss menu items to add to your list. Musikfest 2017 boasts nine all-new food vendors, as well as six food trucks - the most to ever be present at the event.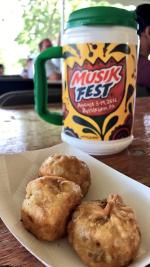 Craving some bite-sized goodies? Humpty's Dumplings offers up both sweet and savory options that can be enjoyed individually or in multiples. In 2016, theses dumplings were even ranked as a favorite food vendor at Bonnaroo by Rolling Stone. You'll want to try these if you're a fan of stuffed pretzels of Musikfests past. Our favorite flavors included jalapeño mac & cheese, chicken bacon ranch, and cheesecake. Find Humpty's Dumplings at Plaza Tropical.
Cheese + seafood = always a good idea. Newcomer Harvest Specialty Catering features grilled shrimp quesadillas that are sure to please. If you're looking for something a bit lighter, opt for a shrimp skewer. Or, go all the way with their decadent lobster mac and cheese - available in three sizes to fit any appetite. Find Harvest Specialty Catering near the Martin Guitar Handwerkplatz. 
Pierogies are always a good choice, but the new Couchpotadoh food truck offers up a new twist on potato favorites. Enjoy empanadas, fried mashed potatoes, and more. For an added flavor boost, consider the red onion & tomato salad atop the fried mashed potatoes. Couchpotadoh can be found in the Colonial Industrial Quarter across from Aw Shucks Roasted Corn.
If you're craving something sweet but want to stay away from the heaviness of ice cream, sample some goods from Try Vegan. As the first all-vegan food vendor of Musikfest, they're offering up goodies ranging from smoothie bowls to falafel wraps. We recommend the Treat Bowl, a cocoa, peanut butter, banana smoothie bowl topped with granola, Oreos, and coconut flakes. Find Try Vegan at Plaza Tropical.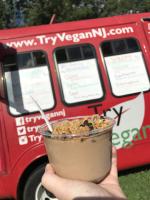 Ready to cast your calorie-counting fears aside? Pies to Die For is totally worth every bite! Who knew that the simple concept of a slice of pie stuffed in a freshly-made waffle cone could be so satisfying? Available varieties include blueberry, apple, and more. Add a dollop of whipped cream to top off your cone and you're good to go! Find Pie in a Cone in the Colonial Industrial Quarter next to the Couchpotadoh food truck. 
Plus, you'll find even more eats on the SouthSide campus of Musikfest. Just outside the ArtsQuest Center at SteelStacks, you'll find Baby Blues BBQ. Offering up everything from smoked wings to savory pork sandwiches, pig-candy mac and cheese and more - this vendor is a Philly-area favorite. They've even been featured on Diners, Drive-Ins, and Dives! 
Another favorite of the 'Fest is the Brown & White sandwich from the FÜD Truk. Making reguar appearances at nearby Lehigh University, this tasty sandwich features roast beef, local cheddar, grilled onions, and garlic aioli atop a brioche bun. Better hurry to grab one of these or we may devour them all! 
For more insight into the eats of Musikfest, check out "10 New Treats to Try" and "Trendy Treats & Fan Favorites." For tips on visiting the 'Fest, scope out our Insider's Guide.