It's time to let your creativity run free. The perfect day of family fun awaits you at Crayola Experience ™— where you're free to color outside the lines. Featuring four floors of colorful hands-on activities, you'll learn how Crayola crayons and markers are made, melt and mold wax souvenirs, star in your own coloring page, create a swirly masterpiece using melted crayons, and so much more.
It's the only place where you can bring your drawing to life on the big screen, climb to your heart's content in the Colorful Playground, dance in virtual wax rain, and even turn your coloring page into a 4-D adventure! Would you believe that this is only where the fun begins?
After all the colorful adventures, be sure to grab a bite to eat at Café Crayola where you're sure to be entertained. And don't miss your photo opp with Big Blue, the World's Largest Crayon. The Crayola Store is where you'll be able to mix & match your own pack of crayons or markers. You'll discover all kinds of goodies that you can't find anywhere else.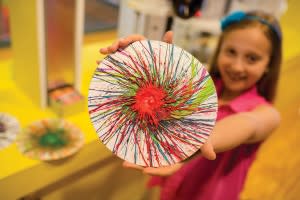 Located in downtown Easton, the birthplace of Crayola Crayons, you'll want to be sure to take in the rest of the city. Stroll through Centre Square, enjoy a meal at one of the many trendy restaurants, or catch a show at the State Theatre Center for the Arts.
Stay & Create packages are available, offering overnight accommodations along with discounted tickets to Crayola Experience™ and a voucher for a souvenir family photo. For details on Stay & Create packages and participating hotel properties, visit StayAndCreate.com. Be sure to contact the hotels directly and mention Discover Lehigh Valley's Stay & Create package when booking.