Crayola Experience has been a fixture in downtown Easton for the past 21 years.Opening its doors in July of 1996 as The Crayola Factory and re-opening as Crayola Experience in 2013, the attraction has hosted millions of visitors while creating unique guest experiences year after year, without wavering on its mission.  
Crayola Experience's purpose is to "help parents and educators raise creatively-alive kids."
Why? Because creatively-alive kids blossom and grow to be inspiring and original adults who, in turn, have the ability to inspire the world. The Crayola Experience offers the physical outlet for families to experience this magic!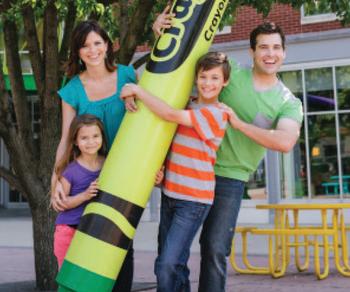 Many Lehigh Valley residents visited the single-floor "Crayola Factory" in their childhood, and are amazed at what it's become. Since re-opening as Crayola Experience in 2013, the downtown Easton location boasts four floors of creative activities showcasing popular Crayola products, ranging from the originals to modern digital art. Whether you want to name and wrap your own Crayola crayon, star in your own coloring page, watch your colorful and magnificent creations dance on a larger-than-life screen, or mold a fan-favorite ring on the dedicated melted wax floor, families come from near and far to play –​ so much fun in your own backyard!    
The popular Easton attraction has even inspired three National Crayola Experience locations to date in Orlando, FL (2015), Minneapolis, MN (2016) and Plano, TX (2018).  

This May, the Crayola Experience is rewarding their local residents with $5 off admission as a thank you for allowing them to call Lehigh Valley home! Click here for details.