What better way to celebrate the holidays than in Bethlehem, The Christmas City itself. And, with the holidays comes the annual Christkindlmarkt. Named one of the top holiday markets of the world by Travel + Leisure, this is something you do not want to miss.
The annual marketplace is everything you can hope for in a holiday event. You will smell the aroma of Christmas cookies and apple strudel while listening to everyone's favorite Christmas tunes. There are endless aisles of handmade works by the nation's finest artists. There will be Christmas ornaments, accessories, paintings, and so much more. If you're looking for one-of-a-kind handmade gifts, this will be your one-stop-shop.
Besides browsing these handmade treasures, you'll also have the opportunity to partake in a few activities. There will be ice sculpting demonstrations, contemporary playhouses, and glassblowing demonstrations (you can make your own ornaments!). Plus, kids and their families can enjoy breakfast with jolly, old St. Nicholas. Check out their activities page for fees and details.
Most importantly, we cannot forget about the food. To give you an idea, there will be strudel, German roasted almonds, bread bowl soups, potato pancakes, schnitzel, bratwurst, apple cider, apple dumplings, frozen cheesecake on a stick, and that doesn't even begin to cover it all.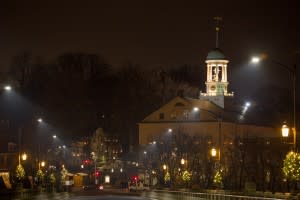 Christkindlmarkt Bethlehem begins November 20 and continues weekends through December 20. Hours vary by day, so check out their site for their up-to-date schedule.
With Bethlehem being The Christmas City, why not make a day out of it and visit the many Christmas-themed attractions that Bethlehem has to offer? Historic Bethlehem Museums and Sites offers many walking tours of historic downtown Bethlehem. This time of year is perfect for the Christmas City Stroll and Hoover Mason Trestle Guided Tours.
Rooted in elaborate Christmas traditions, a Christmas putz is a display that retells the story of Christ's birth. Central Moravian Church's 75th anniversary of the Christmas Putz will begin November 27 and continue through December 31. Edgeboro Moravian Church offers scheduled tours from December 1 – December 22 of their annual Christmas Putz.
Spend this holiday season in The Christmas City with our Christkindlmarkt travel packages. Each package includes overnight accommodations along with tickets to Christkindlmarkt. Movie tickets to Bethlehem: The Christmas City movie are available at many participating hotels. Visit our Christkindlmarkt packages page for participating locations.