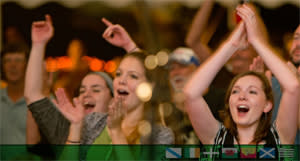 More than 250,000 people will converge on downtown Bethlehem this weekend, Sept. 26 - 28, for Celtic Classic.
And, for the first time, the festival will make its way up to Main Street to bring even more cultural options and fun to attendees.
The main street stage was just recently announced by the Celtic Cultural Alliance and will feature performers from 1 - 8 p.m. on Saturday and Sunday. Local businesses including Bethlehem Brew Works, Corked Wine Bar & Steak House, McCarthy's Red Stag Pub and Whiskey Bar, and Historic Hotel Bethlehem will all have an increased presence in this year's event than in previous years.


Expect outdoor seating, special menus, and more from all of these locations.
If you're new to Celtic Classic, we have a few suggestions for performers to check out over the course of the three-day event.
Our picks include:  Haggis Bowl 2014 at 5 p.m. at Highland Field: The rules are simple.  The person that eats one (1) pound of haggis the fastest wins.  No condiments, seasonings or sauces allowed.  Haggis must be eaten as presented.  Beverages are permitted.

Blackwater at 6:15 p.m. at Tavern in the Glen.

Killen & Clark at 9 p.m. at the 2 Gingers Irish Pub Tent.

 

Our picks include: The Highland Games at Highland Field. (Pick your favorite, but the caber toss is truly the most spectacular.)

Seamus Kennedy at the new Main Street Stage at 1 p.m.

Bagpipe Demonstration at 4 p.m. at Heritage Hallow.

Jamison at 5:30 p.m. at the Celtic River Stage.

 

Our picks include:  The O'Grady Quinlan Academy of Irish Dance at noon at Tavern in the Glen.

Piper's Request at 2:30 p.m. at 2 Gingers Irish Pub Tent

Glengarry Bhoys at 6:30 p.m. at the Grand Pavillion.
Keep in mind that you can't go wrong with any performances you pick.
With the additional of Main Street activities, this year's Celtic Classic is shaping up to be another can't miss event but with a little something new.
We'll see you there!