One day isn't enough when it comes to celebrating the love for our mothers. That's why it's important to take advantage of Mother's Day and spoil them a little extra. There are tons of ways to show your appreciation, and this year I have a few ideas up my sleeve. Check out some of our favorite ways to treat mom in Lehigh Valley.
Most moms could use a day of relaxation and we know it can be hard to find the time to get pampered. This is the perfect opportunity to treat them to a massage from Balanced Body Therapeutic Massage, The Spa at Bear Creek, or Stone House Inn & Spa. Or treat her to a mani/pedi at Style Beauty Lounge & Boutique where she can browse their collection of clothing and jewelry before and after the appointment.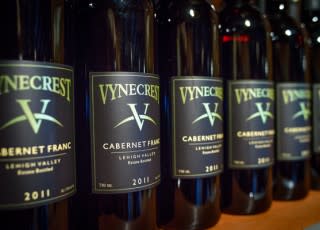 If your mom is a wine-lover, purchase a bottle from one of the local wineries along the Lehigh Valley Wine Trail. Or, take her for a day of wine tasting. Folino Estate, the new winery in Kutztown, has an impressive Italian restaurant next to the tasting room. Their brunch menu on Mother's Day consists of a lavish buffet, complimentary glass of wine for each mother, and a flower bar (buy and create your own bouquet for mom). Or yoga and brunch at Tolino Vineyards sounds like a good plan. Start with Vinyasa in the Vineyard at 10:30 a.m. followed by wine tasting, cupcake pairing, brunch, and live entertainment. Reservations are required for both!
For classic gifts, shop at one of the many specialty stores in Lehigh Valley. Whether you're looking for some sweets, apparel, a good read, or home décor, there's plenty of places for gift shopping in the region. My go-to shops are Moravian Book Shop and Sorrelli in downtown Allentown since I can conveniently shop there during my lunch break.  Sorrelli's slogan, "life layered in sparkle," holds true when you see nothing but shimmering jewelry with every step you take while browsing the store. You're bound to find something that your mom will love and you'll probably walk away with your new favorite pair of earrings as well (just let it happen).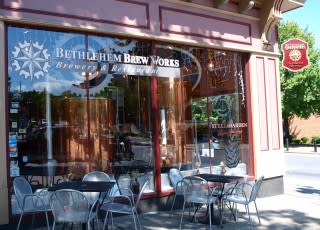 Mother's day wouldn't be complete without a family meal. Sunday brunch will be calling my name and there are plenty of options to satisfy some of those cravings. There will be mother's day brunches and/or buffets at Musikfest Cafe at ArtsQuest, Best Western's Hanover Grand Ballroom, Blue Mountain, both Brew Works locations, and Copperhead Grille to name a few. Be sure to make your reservations early as many of the region's restaurants will be busy.
Mom, if you're reading this... hi! And don't worry, I have a few more ideas to surprise you on your special day. Happy Mother's Day!