Whether you're looking for a formal conference space or something more casual, Cedar Crest College can accommodate meetings and events of all types and sizes. Celebrating 150 years of educational excellence in 2017, Cedar Crest is an historic women's college that also serves a growing number of non-traditional adult learners, both male and female, through its School of Adult and Graduate Education (SAGE), which will mark its 50th anniversary in 2018.
Set in the heart of Lehigh Valley in the city of Allentown's beautiful West End, Cedar Crest's sprawling, 84-acre campus is a nationally registered arboretum. The college offers a variety of meeting facilities ideal for conferences, workshops, retreats, weddings, and receptions.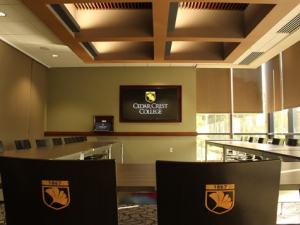 Available spaces include the Tompkins College Center, which houses multiple conference and meeting rooms of varying sizes, the 500-seat Alumnae Hall Auditorium, and the versatile space of the Hamilton Boulevard Building, among others. The College boasts many newly-renovated and tastefully decorated spaces outfitted with modern technology to meet your event's particular needs. Outdoor spaces, which include the picturesque Greek Theatre and campus Quad, provide guests an opportunity to enjoy the hundreds of tree species that make up the William F. Curtis Arboretum.
The knowledgeable and friendly staff of Cedar Crest College will ensure that your event runs smoothly. Fine dining, ranging from light refreshments to complete meals prepared by the executive chef, is available for groups of all sizes.
Cedar Crest College is conveniently located less than 90 minutes from New York City and just 60 minutes from Philadelphia. Close to hotels, business centers, shopping, and recreational and historic sites, the college is the natural choice for your special event. For more information on Cedar Crest College or to start planning your next event, please contact Lauren Condon at 610-740-3762 or lmcondon@cedarcrest.edu.