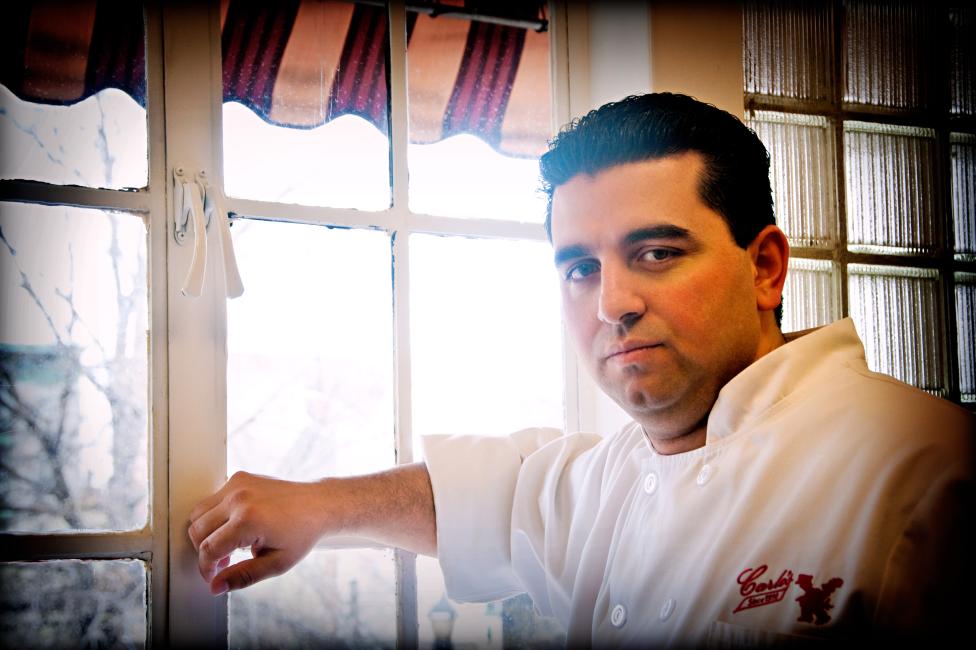 What happens when you're a foodie and you hear that a big name talent is coming to your area?
If you're like me, you jump at the opportunity to check it out! And, that's exactly what I did. TLC's The Cake Boss, Buddy Valastro (@cakebossbuddy), had a stop on his "Family Celebrations Tour" at the State Theatre Center for the Arts in Easton, Pa. last night and I was probably one of the first ones to purchase V.I.P. tickets for a meet and greet opportunity including some special perks.
I loaded up my boyfriend and his two daughters (one being a Cake Boss freak) and we were off for an enjoyable evening. Our seats were $95 each, plus the usual fees associated with buying tickets. This put us in the third row. With the V.I.P. tickets in addition to the meet and greet after the 90-minute show, we also got our pictures taken with Buddy, a laminated V.I.P. lanyard, and a signed hard-cover copy of his latest book, Family Celebrations with the Cake Boss (retail book value of $36).
I think that was a fantastic deal. Please note that there were other lower priced tickets available and any seat at State Theatre is grand!
If you haven't seen a show there, I encourage you to check it out and support the local arts community.
Buddy's show was very family-friendly. Those young and old seemed to really love the show.The Cake Boss made it very interactive with the audience. He'd tell us a little bit about what he was up to, such as his newly created restaurant in Las Vegas, to his new ventures aboard ships departing from New York City and Miami.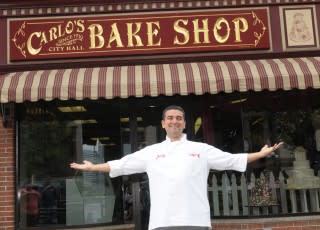 In between he'd do a little decorating while a cameraman allowed us to see what he was doing on the big screen. There were audience questions that came in prior to the show that were asked by a mysterious voice over the sound system in which Buddy took the pleasure of answering.
Some of my favorite parts of the show were where the audience got to participate. No, I didn't get any samples of his goods, but there were a few lucky ones that did. His first audience interaction involved beach balls being thrown into the crowd. They were tossed around and at one point whoever had the balls were invited on stage for one of the cupcakes he had just decorated.
The next interaction was with the kids in the audience. About ten kids who thought they could hoola hoop were chosen to come on stage. The kid who could keep the hoop up the longest walked away with a cake, but all the kids got a small gift which was a nice twist.
Next, it was the mothers in the audience turn. Five mothers were chosen to come to the stage. Buddy asked each of them what their cake decorating skills were like. Some had no experience, others had taken the "Wilton" classes, and some had just dabbled in it. Well, it really didn't matter what their experience was because they were made to do a dance off to the song "Sexy & I Know It" by LMFAO. This was hilarious. I would have been really embarrassed being on that stage shaking my booty, but these women just went with it and each was given a cake at the end.
If he was going to pick on the mothers, he couldn't forget the grandmothers! They were chosen to do a cannoli filling competition. They, as well, were treated to the Cake Boss' cakes.
So, that brings us to the dads in the audience. This might have been my favorite of the night. The dads were asked if they had ever heard of a Walla Banga. None of them had ever heard of it before. They all stood in a line on the front of the stage and were asked to close their eyes as the assistants strapped on a contraption in which they had to swing a miniature basketball through the hoops by swinging their "hips." One dad got three, but yet again, each walked off with some goodies.
The last part of the night was the family challenge. Two families of four competed against a clock to pie challenge. They had to stuff a pie crust with pudding by sitting on a pastry bag, all while not using their hands. Next, they had to put a full can of whipped cream on the pie, put it in a box, gift wrap it, unwrap it and allow the dad to eat his way through the pie to the tin without using his hands. In true Buddy fashion, each family walked away with a gift in hand.
Buddy Valastro had a great stage presence. He made it enjoyable experience that most will never forget. There's a few other stops on his tour which you can check out here.