When you think of Blue Mountain Ski Area, skiing probably comes to mind. You know, because of the whole "ski" word in the title and everything.
However, when the snow melts, the mountain continues to be a place where action happens.
Throughout the summer, you can visit Blue Mountain Bike Park and ride some of the trails that you'd normally never see during the winter months.
The thrills are real. Blue Mountain Bike Park is a downhill bike park and this means fast speeds, tight turns, and serious fun. They also have a pump track available for a those with some high flying skills.
[caption id="attachment_19549" align="alignright" width="320"]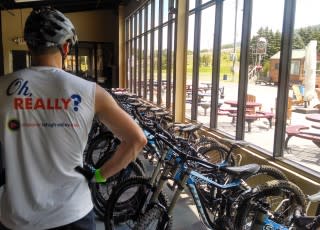 There are tons of rental bikes[/caption]
The park isn't just for those who have been on the trails before, in fact, Blue Mountain Bike Park Manager Chuck Tackas says the park is great for beginners who are looking to get into downhill racing.
"We're here for the most advanced riders as well as those who are just interested in beginning," he said. "This is a park for all skill levels."
Bike rentals are available, or you can bring your own bike.
Their daily fees also include lift tickets which make getting back to the top of the trail a bit easier than riding up yourself.
[caption id="attachment_19551" align="alignright" width="220"]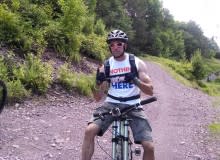 Hittin' the trails[/caption]
We were able to ride some of the bike rentals Blue Mountain has and they are top notch (and a bit different than any other bikes we've ever ridden before since they are made specifically for riding downhill!)
Take a look at our video and get out there. Head here for all information you need to make your biking experience this summer beyond awesome.
[youtube]https://www.youtube.com/watch?v=h3wUuiiG2Kg[/youtube]