Noel Coward's Blithe Spirit, a high-spirited comedy at the Pennsylvania Shakespeare Festival, will be wowing crowds through August 7.
The show begins with a married couple, Charles and Ruth who were both previously widowed, getting ready for a dinner party. They've invited a special guest, Madame Arcati, to their home in hopes of gathering material for Charles's latest novel. She is an odd woman who is known to be a medium who connects humans with spirits from the afterlife. Unfortunately for Charles, his life is about to change when the ghost of his first wife, Elvira, comes back to haunt him when Madame Arcati's séance succeeds.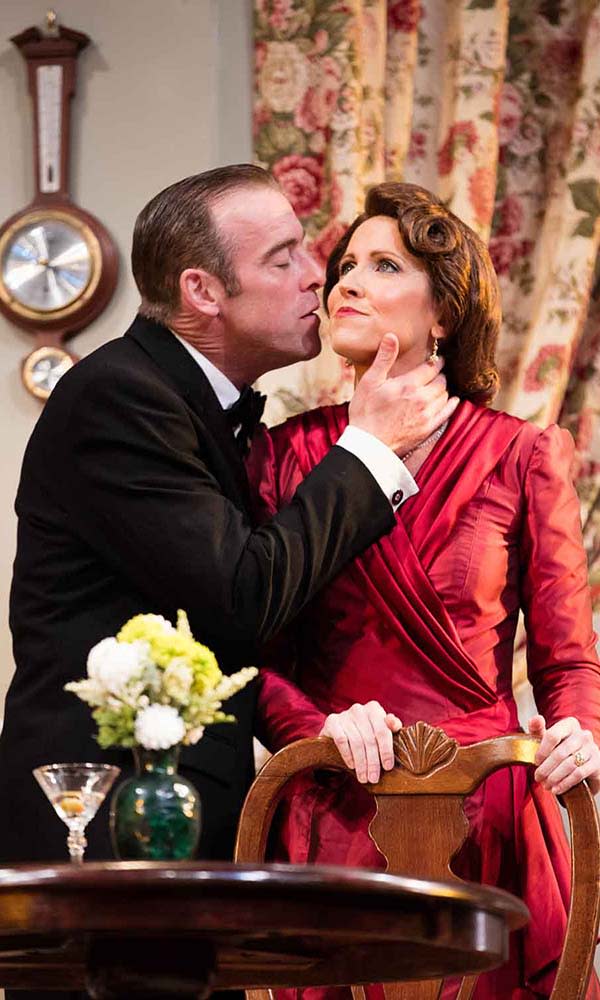 Charles's first wife, who died in the very house that the new couple resides, is out to get her husband back. Poor Ruth cannot hear or see the ghost, only Charles is able to see his mischievous late wife. Elvira continuously attempts to disrupt his new marriage and quite comically parades around their home trying to stir up trouble, and at that she definitely succeeds.
A composition of PSF veterans, a DeSales student, and TV/film stars, the entire cast is a joy to watch. The cast includes Linda Thorson (who plays Madame Arcati) who you may remember from The Avengers and Star Trek and Joyce Cohen (playing Mrs. Bradman) who makes an appearance in movies such as High School Musical and Independence Day.
If you're looking to enjoy a show at Pennsylvania Shakespeare Festival, but can't seem to handle the Shakespearian language, Blithe Spirit is the perfect balance of comedy and talent. Enjoy it through August 7, and visit pashakespeare.org for tickets and details.
Image: Playing husband and wife onstage and in real-life: Karen Peakes as Ruth and Ian Merrill Peakes as Charles. Photos by Lee A. Butz.