I don't have to tell anyone how unseasonably cold it has been around here recently.
Even if you are reading this tanning on a beach in Florida you've surely seen the news about Lehigh Valley's rare sub-zero temperatures. Pipes freezing, cars not starting, power outages; it's enough to drive one to…comfort food!
Luckily, I have no need brave the elements to venture out for lunch. Billy's Downtown Diner opened on the first floor of our office building on Hamilton Street in Allentown.
I love visiting his original location on Broad Street in Bethlehem, so I knew the food would be good, but he really scored a home run with the staff running the Allentown location.
They have been slammed for lunch every day since opening back in late November and based on the convenience, food, and service I'm sure it will remain busy everyday going forward.
[caption id="attachment_18123" align="alignright" width="320"]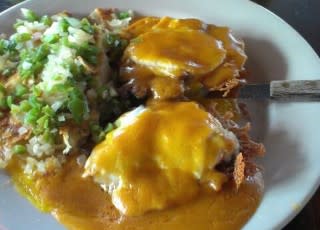 Southwestern Eggs Benedict[/caption]
Having every table full and a line waiting doesn't ruffle a feather on the staff.
They all have genuine smiles, welcome all the guests, and make everyone feel like one of Billy's family, all while hustling to get orders in and delivered to their customers.
I ordered "to-go" yesterday and the experience was just as personable. The Burger Melt comes with fries but the gentleman who took my order asked if I would prefer coleslaw or soup instead.
Nice touch… not everyone would do that. I opted for the soup, a pepper pot, which hit the spot on a cold day.
[caption id="attachment_18124" align="alignright" width="320"]
Western Omelette[/caption]
I'm highlighting the staff without mentioning names because I wouldn't want to slight anyone. Every one of the kitchen workers retrieving a full bin of dirty dishes nodded in a happy recognition toward me as they made their way through the swinging door.
In a pre-opening discussion with Billy, back when he was spending countless hours working on the kitchen to get everything just right, he mentioned his greatest concern was matching the caliber of wait staff he has at his Bethlehem restaurant.
Not to worry, Billy…you picked the right team!
Billy's Downtown Diner, "not your ordinary diner" is open for breakfast and lunch. If you haven't been there yet, you must treat yourself, even if you have to bundle up to get here.
Also, Follow us on Foodspotting to find some of the best food in Lehigh Valley.