Last week, I had the opportunity of getting a sneak peek into the new contemporary art gallery, Bethlehem House Gallery  scheduled to open this Friday, July 25 at 459 Main Street, Bethlehem.
This is the first contemporary art gallery to have ever opened its doors on Main Street in downtown Historic Bethlehem. The man behind the vision is Ward Van Haute who is known for his work in oil paintings on the reverse of reclaimed windows (You have to see it for yourself!)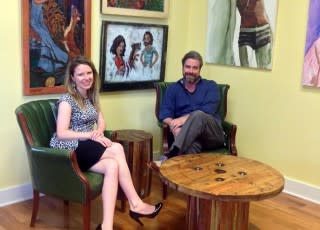 The Gallery is laid out as if to be in the comfort of your own home which includes a living room, bedroom, office, foyer, and kitchen.
The idea behind the setup is to teach people how to display contemporary artwork and modern designs in your own house. Bethlehem House Gallery will have four annual shows promoting a variety of regional artists and will be constantly circulating innovative designs and contemporary styles at every range and household budget.
The showroom looks spectacular with every detail planned out from the floors to the furniture, walls, and lighting.
So if you plan to head to Bethlehem this weekend, I recommend checking out their opening reception from 6 p.m. - 9 p.m. on July 25 or their first open house from 12 p.m. - 9 p.m. on July 26.