Fall brings around a few of my favorite thing: apples, sweaters, pumpkin everything, but most importantly- football.  But these seventeen Sundays, filled with cheering at the TV (or yelling, depending on how things are looking), can't just be spent sitting on the couch at home alone.  We've got some great places in Lehigh Valley to sit down for a game or three.  I've compiled a list of some of my favorites; see if you agree!
If you're looking for a game-watching location with prime television options, check out Roosevelt's. Both the Allentown and Bethlehem locations have tons of TV's so that you can keep track of all your fantasy players at once, and their food is fantastic too.  $5 nachos during NFL games? Save me a seat!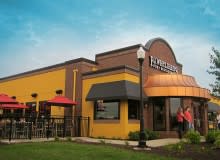 PJ Whelihan's offers 31 TVs at their Bethlehem location with surround sound to top it off.  If that isn't reason enough, you can also grab a $10 Beer Tower (100 oz!) to split with your friends while you cheer on your favorite team.
The renovated bar area at the Copperhead Grille in Bethlehem makes for a great viewing spot as well.  Catch a Monday or Thursday night game here and get half-price late night appetizers after 9 p.m.!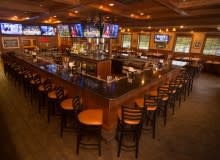 Stooges Bar & Grille in Allentown has a brand new 80" TV in the dining room (and it is pretty spectacular).  In addition to $.50 wings during NFL games, you can also have a taste of 32 different hot dogs on their special NFL menu – each is designed around a featured dish from that city.  See if you can try them all before the end of the season!
Starter's Pub features three big screen TV's and thirteen 50" plasmas.  They have great food specials happening, which vary week to week.  Each team has a corresponding meal to go along with it – clam chowder for the Patriots, cheesesteak for the Eagles, etc. – so be sure to check what teams they're representing before you head over!
If a good TV set up doesn't quite do it for you, maybe you want to head to a bar where you'll find other fans of your team.  Many locations in Lehigh Valley represent all teams, but there are a handful that we've pinned down:
Joe's Tavern: New York Giants Hops Fogelsville Hotel & Blue Monkey: Pittsburgh Steelers Stooges: Dallas Cowboys Big Woody's: Philadelphia Eagles
So while I get my Cruz jersey ready for the Manning Bowl on Sunday afternoon and contemplate what kind of wings I want this week, let me know!  Where is your favorite place to cheer on your team?