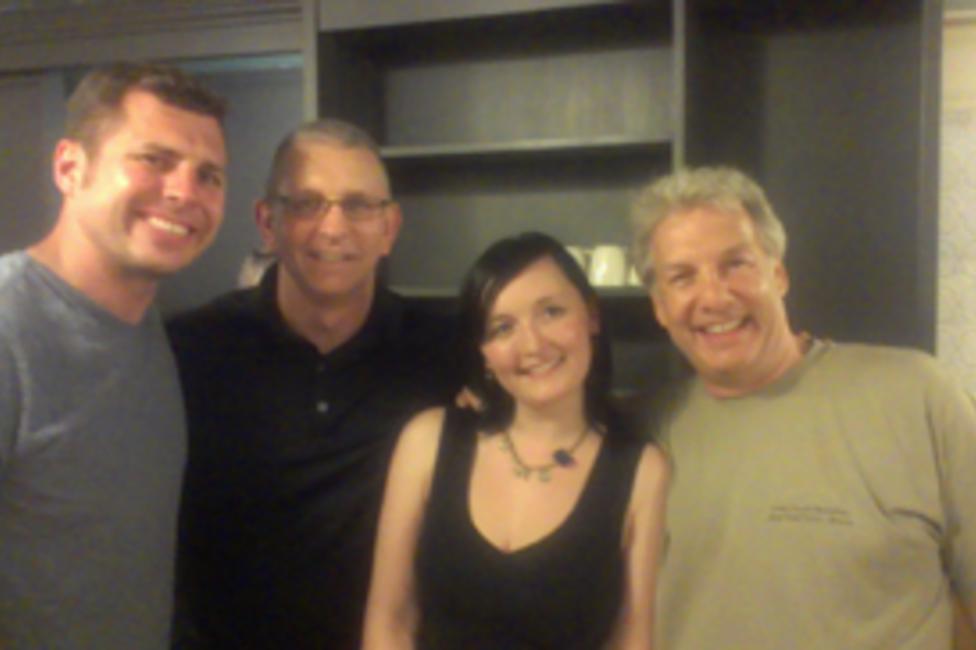 Robert Irvine's pretty intense when the cameras are on and the lights are hot. He comes into the bar area from the other room, his tight shirt barely swallowing his huge biceps, and barks a few orders at a bartender who is almost over his head.
Apparently, they are out of oranges and they are serving Blue Moon. That's a no-no. Irvine makes someone go up the street to get fresh ones.
They aren't serving drinks fast enough, so Irvine finally gets behind a tap and starts pouring tall frosty ones.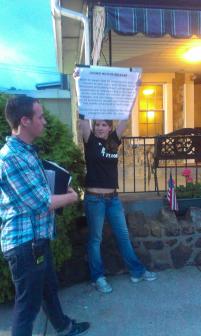 That's how things were done during the shooting of "Restaurant: Impossible" at Benner Street Restaurant in Fountain Hill. Taped a few months ago, the show airs July 28 on The Food Network and we were there to see the "big unveiling," the grand finale at the end of the show.
You'll have to watch the entire episode to see how Benner Street was transformed from the time Irvine stepped through the doors, however, we can give you a sneak peek at what happens during the unveiling, as we were a few of the lucky patrons who were given reservations.
As part of some "restaurant recon," we visited Benner Street the week prior to "Restaurant: Impossible's" taping. The super quaint restaurant was a hit with the older crowd, generally attracting older patrons who ate early dinners and drank at the bar only a tiny bit after the sun went down. We ate there and, to be honest, the food was great. (In fact, we overheard Irvine say how this was one of the only restaurants he'd ever been to where the food didn't need much help at all.)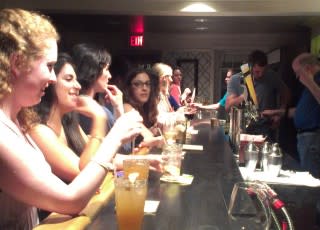 We did notice that Benner Street possibly just lacked.... the electricity and excitement that the owners were looking for when they applied to be on "Restaurant: Impossible." The decor was a bit dated and doilies, wow were there tons of doilies.
After eating lunch at the "old" Benner Street Restaurant, we were very excited to head back for the re-opening. The crowd pushed toward the front porch of the restaurant as storm clouds slowly rolled in overhead and made the whole process of getting inside, which everyone was trying to do, that much more important. Cameramen came in and out of the restaurant, getting crowd and exterior shots. A young woman held a sign that read something to the effect of "If you're hanging out here, you're going to be on camera, so don't get mad if you're on camera."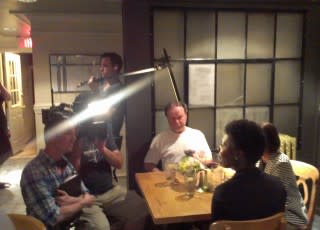 After a while, we were allowed into the bar area which was packed to the gills with more orders and hands and outstretched fists with dollar bills than Benner Street must have seen in some time. While the Benner Street staff was slightly overwhelmed at first, they moved quickly in their new uniform shirts and began to rope in the crowd.
That's when Irvine made his first appearance, to us anyway. The big guy's physique did seem a bit smaller in person, but not his personality. Both him, Tom "the builder" Bury, and producer Marc Summers (From "Double Dare" and "Unwrapped" fame) were gregarious, talkative and charming. We were able to talk to all of them for a period of time regarding their time in Bethlehem (Tom Bury loved the SteelStacks area and wants to come back for a tour and Marc Summers loved Historic Hotel Bethlehem) and how the staff and ownership at Benner Street were great to work with.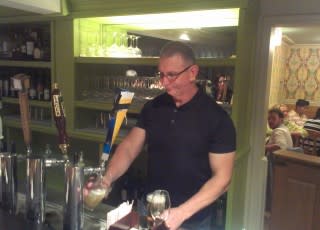 We finally sat down to eat around 11 p.m. (our reservations were for 9 p.m. but we didn't mind.) Our server was tired and told us how they had put in so much work over the previous two days, but how it was worth it. The menu was much smaller than it was the week before when we came.
And the doilies. All the doilies were gone. The restaurant part of the bar had a new, more modern touch while still keeping some of the "old-timey" type rusticness that Benner Street called its own.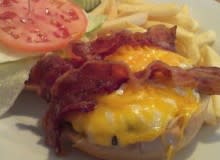 In order to get the best idea of how the restaurant had changed, I ordered the same thing I had the week before, the Doc Benner Burger, which was now more of a sirloin burger than ground beef.
While it was better than what I had the week before Robert Irvine came in, it wasn't worlds away better. In fact, I wouldn't mind having the old Doc Benner Burger still on the menu. Those in my party were equally as impressed with their food.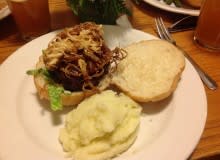 We winded down around midnight and said our farewells to the cast and crew and got one more tough handshake from Robert Irvine, and brief bicep flexing contest, before we went home with all of our pictures and ideas of how we'd be on the show and get our small moment of fame.
But, even if we don't make the cut this Sunday, it was fun to be a part of a new beginning for a local restaurant, and one everyone should take some time to head to and enjoy as much as we did.
If you enjoy Robert Irvine as much as we do, head to his show at Artsquest's SteelStacks this November.