Earlier this month I was an exhibitor at a Lehigh Valley business to business trade expo. I have as much fun at these as I do the out of state shows, but for a different reason. At our local shows I get to catch up with people I know that I don't often see otherwise. In a pre-show walk around I visited Jake from Bear Creek Mountain Resort at his booth. We were discussing all the fun events they had coming up but my ears perked up when he mentioned their Harvest Wine Festival.
I e-mailed the information to my sister, Kathy, and her husband, Don, asking if they would want to join Don and I. Luckily they were available.
We always spend a weekend together touring the Lehigh Valley Wine Trail for their March passport event and Bear Creek's festival coincided with LVWT's Chambourcin Weekend so I felt a little guilty. We opted for this "new-to-us" experience.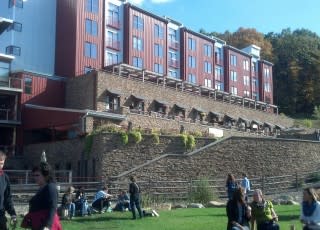 You could not have picked a better day. The weather was perfect with sun shining on the beautiful autumn leaves. The event was in two areas, the Woodland Ballroom and in a large outdoor tent nearby. If one area was hit heavy with crowds you could just walk to the other so it worked out well.
I can't say enough about how well organized, pleasant, and helpful the staff at Bear Creek were. There were a lot of people sampling the wines from 14 different wineries and gourmet foods from 12 other vendors and the staff kept up with it all. I especially appreciated the fact that they had wine check service where you purchases were tagged and waiting for you at the end of your day.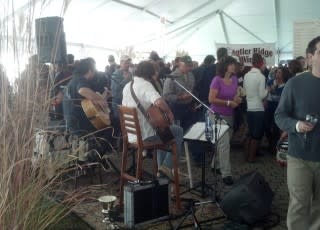 I took full advantage of that service! I could not imagine lugging around the two paint cans of "Barn Red" we bought from Paradocx Vineyard. Of course we could have just purchased a bottle but the paint can, including the wooden stirrer was too cute to pass up. It was kind of a cross between buying a bottle for the pretty label and buying a box for the value.
Kathy and I bought lanyards for holding our souvenir wine glasses and she picked up some funny wine t-shirts for gifts. We sampled some yummy bacon from Bespoke Bacon (a very popular booth) and picked up some cheeses from BAD Farms and a hot pepper jelly from Fathead Peppers.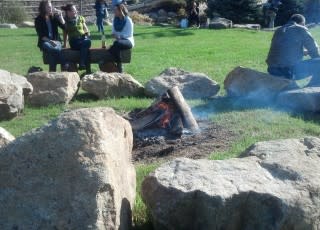 We ended our day by grabbing a table outside next to their bonfire and opening a bottle of Chambourcin to enjoy with our cheese. What a relaxing way to spend a Sunday afternoon. Since I don't ski, I am not at Bear Creek as much as others, but I'll be sure to keep my eye on their events calendar for more fun excuses to visit this beautiful resort.