Just a few miles outside of Allentown, a bright yellow sign greets passersby along Township Line Road beckoning them to see the unique treasures inside a picturesque red barn.
If you're looking for a unique shopping experience look no further than Barn Swallow Country Store.
Formerly Country Candles and Collectibles, new owner Kate Hydro has expanded the charming multi-room shop to feature hand crafted furniture, wares from local artisans, handmade soaps and treats, as well as Melissa & Doug Classic toys.
[caption id="attachment_18191" align="alignright" width="320"]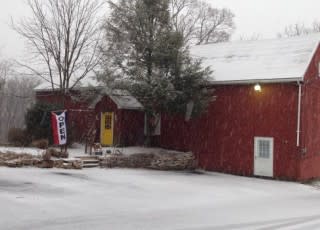 Barn Swallow Country Store's home is in this quaint big red barn.[/caption]
You could easily spend hours looking at all the trinkets, kick-knacks, and Pinterest worthy vintage and decor items found inside.
I love this place because you can find gifts for yourself or friends that are as one-of-a-kind as the shop that houses them. There's just something not only about shopping local, but shopping local in a venue like Barn Swallow. It really makes the whole shopping experience much more than just about buying fun items.
While I highly recommend heading out to the store for the warm friendly atmosphere, Barn Swallow Country Store also has an Etsy page with a sampling of their wares for those who enjoy shopping online. And, of course, you can find them on Facebook.
Barn Swallow is open weekly Wednesday through Saturday from 10 a.m. to 5 p.m. and Sundays 12 p.m. to 5 p.m.
[gallery ids="18190,18195,18191,18193,18194,18196"]