It may be the off-season for the Lehigh Valley IronPigs, but that doesn't mean that the fun comes to an end at Coca-Cola Park.
This weekend, all things bacon take over the park for the inaugural Bacon Days celebration.
On Friday, September 19, test not only your speed but also your stomach with the Bacon 5k Challenge. Racers will run a traditional 5k course, but with an optional mid-race twist. If you're feeling gutsy, take a stab at the Bacon Challenge. The bold racers will run the first 2.5 kilometers before stopping to devour a half pound of bacon. After completing the food challenge, they'll continue on with the second 2.5 kilometer run to finish off the race.
When you've completed the race (bacon challenge or not), it's time to celebrate. Head back to Coca-Cola Park for the post-race party, featuring live entertainment, bacon-related food offerings and beverages for purchase.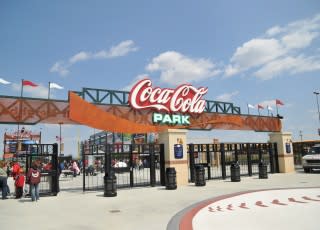 To sign up for the Bacon 5k Challenge, head here. Race competitors will receive a commemorative "Scratch and Sniff" bacon race Dri-Tech t-shirt, chip timing featuring results via text message as you finish, a half-pound of bacon at the halfway point and one beverage ticket good for either a beer, bottled soda or water during the post-race party. Prices vary based on the optional mid-race bacon challenge. Prizes will be awarded to the top male and female finishers.
The race kicks off at 6 p.m., with the post race party continuing until 9 p.m.
Running not your thing? Then you may want to check out the Bacon & Brews Bash on Saturday, September 20 from 1 - 5 p.m. A special VIP session will be available from 12 - 1 p.m.
Hosted on-field at Coca-Cola Park, attendees will have access to unlimited  beer tastings from dozens of breweries including Troegs, Starr Hill, Funk Brewing Company, and more. Participants will receive a commemorative tasting glass to use throughout the afternoon.
In addition to a wide selection of beers, Bacon & Brews Bash attendees will have access to special bacon-themed foods from a selection of local food trucks. Vendors include Sweet and Savory Gourmet Gift Store, Sum Pig Food Truck, BeSpoke Bacon, Smokin Bull Shack, Trixies Treats, The Taza Truck, Fud Truck, and Bacon Jams LLC. There will also be plenty of live entertainment. Exciting events, such as the Lehigh Valley's first Hog Calling competition, will also take place throughout the afternoon.
Bacon & Brews Bash tickets are on sale now for $40 per person for the four-hour unlimited tasting event or $50 per person for those wishing to take advantage of a VIP hour featuring an extra hour of unlimited beer samplings, beginning at noon. For just $5, tickets are available for designated drivers who will receive complimentary soda or for those just wishing to eat bacon. Please note that you must be 21 or older to attend.