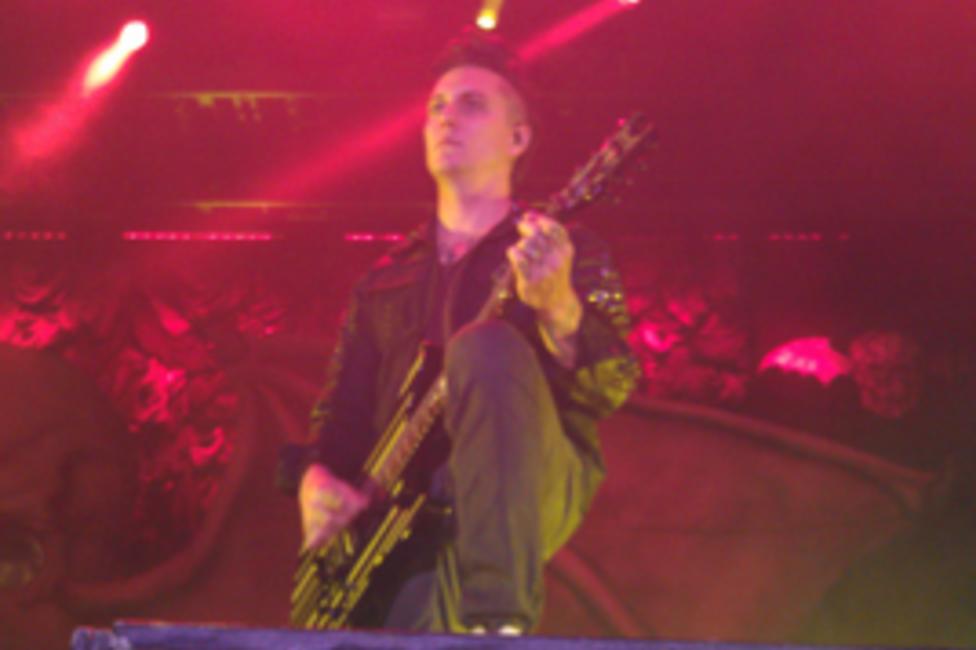 Musikfest 2013 closed in spectacular incendiary fashion Sunday night… and that was before the festival-ending fireworks even started!
Avenged Sevenfold staged a sonic and visual performance on the Sands Steel Stage to a crowd more than willing and eager to "Hail" and absorb the assault.  Touring in support of their upcoming new August 27th, 2013 release "Hail to the King", A7X, as they're also known, put on a Metal-Hardrock-Punk Pop performance that resonated with the crowd, and certainly with this writer.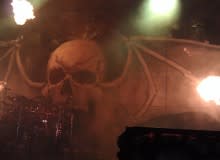 Not having a prior affinity for the metal genre, leaning towards punk and hard rock for most of my adult life… (certainly a generational thing), I was really looking forward seeing this show for many reasons.  What were these guys gonna sound like live?  Where do they land as far as level of musicianship and songwriters?  I was new yet excited to experience something new in a live environment.
Talking and celebrating with some "metal-heads" before the show… throwing it out there to them that I really didn't have a lot to go on with A7X.  Rather than throwing it back to me with comments like, "Well Mike, then what the heck are you doing here… you're not one of us!"  Quite the contrary… they gave me more than a few heads up on what to look for during the show.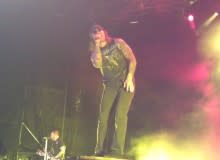 "Guitarist Synyster Gates is truly one of this generation's best guitarists!"
"Listen intently to what drummer Arin Ilejy is actually doing… you'll be amazed!"
What is it about metal that grabs and never lets go of its followers?  I've always known that metal fans have inherently been fiercely loyal to the music and the metal bands.  After hanging with some passionate metal followers, I think I'm beginning to understand it a little better.  Onto the show (here's the setlist.)
Opening with the numbers "Critical Acclaim" and "The Beast and the Harlot", one could hear the  influences of Iron Maiden, who back at the beginning of their long and storied career, were the harbingers of the "New Wave of British Heavy Metal" in the late '70s and early '80s.  The time signature changes and tandem guitar solos are there in the A7X song structures.  The metal-operatic vocals performed by vocalist M. Shadows… who by the way… had a distinct Axl Rose look onstage last nite, complete with blue doo-rag, sunglasses and cut-off Iron Maiden tee, are traceable to Judas Priest and Megadeth.
Clean background vocals sung by guitarists Synyster Gates and Zacky Vengeance also harken to Maiden and resonate with the A7X sound.  Mixed with some attention and throat-grabbing Pantera-like riffs along with some Guns & Roses sleaze thrown in just for fun… and…  well…  you get a glimpse of the band at the forefront of the "New Wave of American Heavy Metal Sub-Genre".
I think my two faves from their performance last night were the slower and absolutely haunting "Fiction" and the melodic and riff catchy "Afterlife".  The especially speedy and shredding guitar solo performed by Gates in "Afterlife" was eye and ear-popping unbelievable.  His aforementioned rep completely validated by his performance last night.  The slow guitar buildup of "Buried Alive" to its frenetic riff finish was also captivating… this song having been smartly placed in the middle of the set. A stage show complete with skulls and skeletons along with all the pyrotechnics, explosions and lights  were used effectively, most of the time emphasizing and syncing to the music.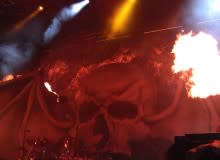 The crowd for the show was surprisingly diverse.  While A7X has certainly captured the all-important younger demographic, both male and female, a demographic so important to the future of any band, there were surprising numbers of "older" metallers in attendance.
Warm-up bands Mind Evolution and Fight or Flight performed solid and enthusiastic sets, while vocally promoting A7X to the crowd.  The only negative take-away being that it would have been great to see A7X push their set to the 2 hour mark.
Such was the back-drop to this writer's first metal specific show.  I came away thinking that Avenged Sevenfold may have provided a kind of catalyst to further delve into their music… the main reasons being well crafted, emotive songs and A7X's level of superior musicianship.  On more than one occasion my hands did reach for the sky.
Did I mention how awesome the drummer was?!