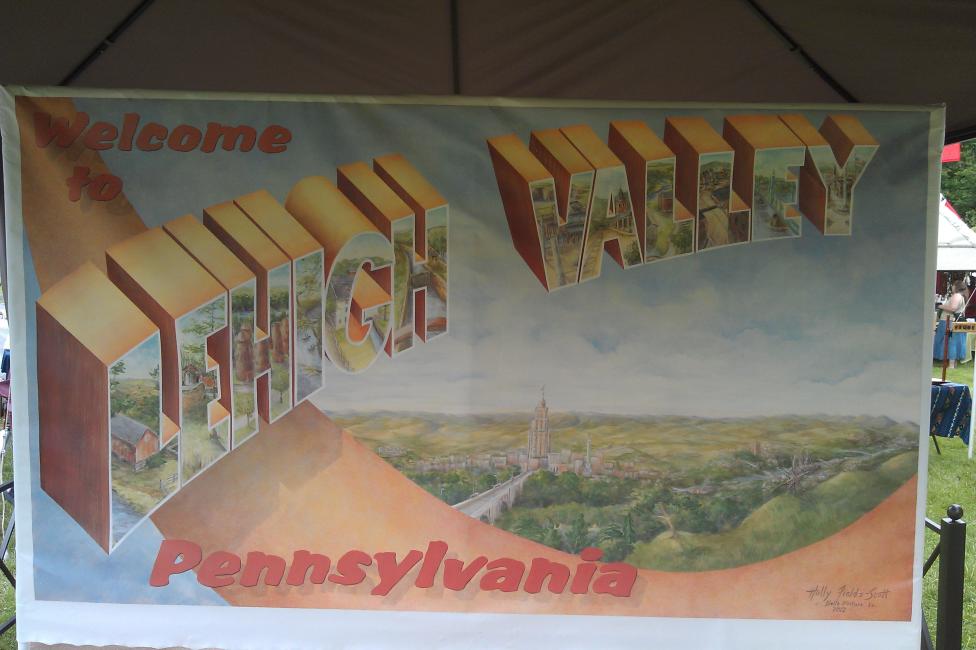 This past weekend I traveled to Mexico, India, Africa, Ukraine, Columbia, Jamaica, Vietnam, Scotland, Philippines and Ireland. I also had a taste of Pennsylvania German and American Indian culture. Where and how you might wonder? I spent both Saturday and Sunday at Artifest, located at the Museum of Indian Culture in Allentown, Pennsylvania.
This unique outdoor festival is a celebration of old world culture with crafts, lifeways demonstrations, fine arts retailers, music and dance, children's crafts and my favorite, ethnic foods. For a $5 entrance fee for adults (seniors & kids ages 12 – 17, $4; and 11 & under, free), you can't beat the sights, sounds and tastes that were presented.
Saturday there was an unveiling of a Lehigh Valley Commemorative Mural (see picture) that was designed to celebrate the accomplishments of Lehigh Valley's cultural heritage organizations, historical societies and museums for their education and preservation efforts of artifacts and historical landmarks. This magnificent work of art is a wonderful reminder of that history and all proceeds from renditions of the mural will benefit Lehigh Valley cultural heritage programs and organizations that work tirelessly to maintain our rich past.
The Lehigh Valley Commemorative Mural is the work of renowned Bethlehem artisan Holly Fields-Scott, a resident artist at the Banana Factory and visiting artist at Lehigh University. Fields-Scott's passion is "introducing life, humor, and color with paint and the human spirit" to effect positive change in communities. The mural's design was inspired by various anniversaries of Lehigh Valley cultural heritage organizations.
Lehigh Valley Commemorative Mural Postcards and Prints will be available for purchase at the Museum of Indian Culture, Lehigh Valley visitor centers and gift shops. By year's end, the mural will be offered for silent auction. All proceeds from these sales will help support Lehigh Valley cultural heritage preservation organizations and Artifest.
The mural will be traveling around Lehigh Valley in a few weeks. Some of its stops include the George Taylor House in Catasauqua, Lehigh County Government Center, Banana Factory, Lehigh University, America on Wheels and Lehigh Valley Heritage Museum in Allentown. Make sure to check out our website for its next stop at DiscoverLehighValley.com.