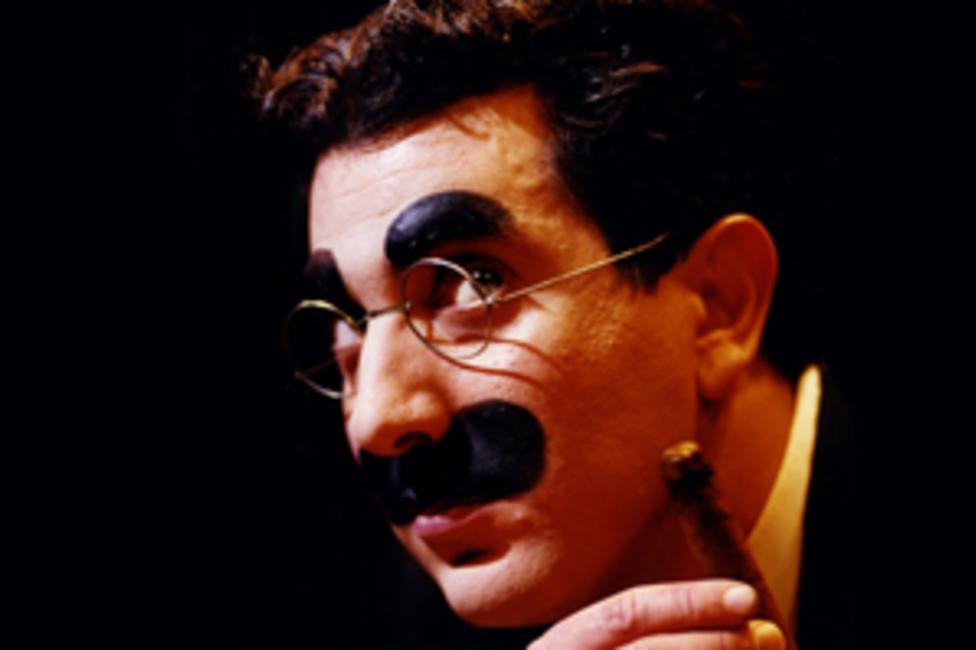 I am a Marx Brothers fan. So being able to see An Evening with Groucho at Miller Symphony Hall this past Saturday night seemed like a blast. It was.
An Evening with Groucho is a show starring Frank Ferrante as Groucho, accompanied by pianist Jim Furmston. It starts when Jim comes onstage to play a Medley from the Marx Brothers Films. From there, hold onto your hat.
Ferrante comes onstage as himself and explains why he enjoys Groucho, how he used to stay up to catch "You Bet Your Life" and while telling us this, he is getting into character. When he's done speaking, he's done with the makeup; the eyebrows, the mustache. He's transformed into the one, the only, Groucho.
In classic Groucho fashion, the first thing he does is tell us he must be going, with "Hello, I must be going" from Animal Crackers. This naturally leads Groucho into, Captain Spalding the African Explorer.
Then onto the audience participation. A woman in the front row said she was from Schnecksville.c
"Schnecksville, you made it out! This is a big day for you!" Groucho replied.
"How's the balcony? JUMP!"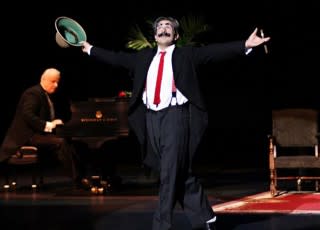 Then he finished being Captain Spalding and started telling us his history.
Did you know it all started for the Marx Brothers in Allentown? They were big in Vaudeville but it was when I'll Say She is debuted in 1923 at the Lyric Theatre in Allentown, before opening and running successfully in Philadelphia before taking over Broadway, that they started doing shows and getting into "the pictures".
Throughout the performance he would occasionally break character to be one of the other Marx Bros to set himself up, for example;
Zeppo says "The garbage man is here", Groucho replies, "Tell 'em we don't want any!"
Then back to the history, it was Art Fisher who nicknamed the brothers. Then onto a great, not very well known song called "Father's Day", which has a great punchline, look it up!
Moving on, there were scenes and monologues from The Cocoanuts, A Day at the Races and "Lydia the Tattooed Lady" from At the Circus.
Prior to intermission Furmston and Groucho did the piano gag that Groucho and Chico did in Animal Crackers, this faded us into intermission.
http://www.youtube.com/watch?v=zeRmxVMpGvo
Coming out of intermission they finished the piano bit and there was more singing and more audience participation, which was more like a slightly toned down Don Rickles!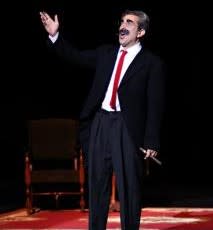 Another example,
"Where are you from?" - Groucho
"Bethlehem" - Member of the Audience
"Jesus Christ" - Groucho
"Oooooooo" - The audience
"Come on, you can't make them that easy." - Groucho
The night was filled with comedy, old school comedy. It was also filled with history, in which Lehigh Valley played a part, as it wasn't just Allentown, but a theatre in Easton also hosted the Marx Bros, for a show as well.
With audience participation, there is no third wall, so he comes right out and says that our ticket money went to a great meal at Cosmopolitan, where he had the salmon and loved it and Jim had the amazing braised ribs.
It all started 90 years ago this month in Allentown.
"Allentown... It's just right" that's how he closed the show.
Frank is great as Groucho. He has a PBS special you may have seen, but I urge you to seek out a show and see him. With the audience participation no two shows are ever alike, and even if you're a big fan (like me), you'll know all the punchlines, but he'll still surprise you, as Frank himself can put on the Groucho wit and go at the audience very well. In my opinion, the man must have studied hours of "You Bet You Life" episodes both on the radio and on TV.
http://www.youtube.com/watch?v=BZxMIOJtp7E