America On Wheel's current exhibit is "Gone But Not Forgotten: Orphan Cars of the 1950s to Today," and it is quite the exhibit. This exhibit really does span the era's of car-making from the 1953 DeSoto Firedome Sedan, to the 1963 R2 Avanti to the 1981 Delorean DMC-12 and many in between.
The term "Orphan Cars" refers to those built by manufacturers that have since stopped production and gone out of business. "Orphan Cars" often represent the combination of big dreams but small budges, mismanagement of once great companies or flawed designs.
First off, I couldn't help but be drawn to the Delorean. It was barely in production for three years and only 8,583 were built, but it was the car Doc Brown built his time machine out of, with the help of the flux capacitor, for the Back to the Future trilogy. The reason I had a hard time looking at anything else is because its gullwing doors, which are now a part of some supercars, were open in its display. For reference the BMW i8 and 2014 Mercedes-Benz SLS AMG GT both have gullwing doors.
[caption id="attachment_19190" align="alignleft" width="320"]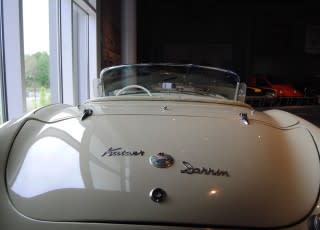 1954 Kaiser Darrin[/caption]
All of the cars are striking to different people for different reason, but the 1954 Kaiser-Darrin is something else. The Kaiser-Darrin was the first American sports car with a fiberglass body. It also featured something not seen on many cars to this day, sliding doors.
Unfortunately, the car stopped production in 1955, because this was a car that could have done battle with the Corvette. In fact, it beat GM's new Corvette to the market by just a few months. History may view the Kaiser Darrin as an "orphan," but one of it's long lost relatives is still very much in business; Jeep.
[caption id="attachment_19193" align="alignright" width="320"]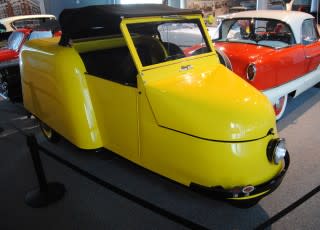 Thrif-T Tri-Wheel[/caption]
So far, I've mentioned cars with four wheels, so lets get a little exotic with the 1951 Thrif-T Tri-Wheel, manufactured by the Tri-Wheel Motor Corporation. The car looks like you could easily roll it over, but the top speed was 50 m.p.h., so it was unlikely to ever get that fast and have any issues.
This car was in production for 8 years, but no one is sure how many were built and the one on display at America On Wheels is the only known of its kind still in existence. It really is quite the concept car, except it wasn't just a concept, it was a production car!
In addition to the Orphan cars, America On Wheels just got in a display of Indian Motorcycles, including a 1913 Indian 4 hp Regular Model. Interesting fact, The 4 hp Indian has no transmission but uses a clutch to engage the chain-driven final drive. And that's not all that's going on at the museum, they also put on display a Steath Tryke, a custom made Reverse Tryke that can reach a top speed of 156 mph.
There is a lot to see and the Orphans will only be in town through the fall, when, from what I hear, an exhibit of supercars is coming in, but don't quote me. Either way, you'll want to see the orphan exhibit before it's gone. It's a great way to beat the heat or get out of the rain this summer!