Downtown Allentown becomes the nexus of Lehigh Valley blues, beer, and great food on Saturday, June 14 as "Blues, Brews, and Barbecue" returns for the seventh time.
The festival, which closes down portions of Hamilton Street in the shadow of the PPL Building and PPL Plaza, runs from noon until 10 p.m., making it great for any schedule, and perfect for families looking to get out in the beautiful weather.
Not only do you have some of the best barbecue that will be served in Lehigh Valley all summer (head here for a list of vendors) but you'll also have an opportunity to fill your day with some serious, real, down home blues during this lineup of artists:
1:15-2 p.m. - Craig Thatcher's "Blues Akustiko" 2:15-3:15 p.m. - Dugan Thomas 3:30-4:30 p.m. - James Supra, Sarah Ayers Quartet 4:30 p.m. - Blues Competition Announcements 5-6:30 p.m. - Billy Hector Band 6:45-8:15 p.m. - Alexis P. Suter 8:30-10:00 p.m. - Clarence Spady Band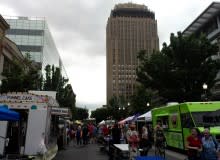 Head to Allentown's Hamilton District Facebook page to stay up-to-date with Blues, Brews, and Barbecue updates and be sure to use the official hashtag, #BBB2014, when tweeting or posting photos about the event!
Discover Lehigh Valley will be wandering through the crowd distributing #LVme frames with even MORE opportunities at prizes.
Simply put, there's a party going on downtown in Allentown tomorrow and everyone's invited.
See you there.
[gallery ids="19431,19433,19434,19435,19436,19437"]