♪♫ Welcome back, welcome back, welcome back, welcome back! ♪♫
Bring on the sunshine! Warmer weather means getting outside and spending time with family and friends. This summer you can safely have fun when you visit Downtown Allentown. Check out the top six outdoor events you'll want to experience this summer! 
Rock the Walk. Come to the ArtsWalk Pocket Park every Thursday from 4-9 p.m. to listen to live music from your favorite Lehigh Valley bands, explore pop-up vendors, and watch opening performances from local community groups.
Outdoor Comedy Night. Have a good laugh and great food at Comedy Night outside in the ArtsWalk Pocket Park on the last Friday of every month from 6-8 p.m.! Let your friends know you're going and RSVP for the next show.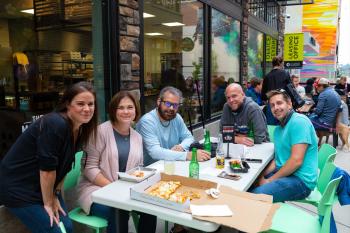 Movie Night Under the Stars. Grab your friends and family and come out for a FREE Movie Night in the ArtsWalk Pocket Park on the second Friday of every month! 
Third Thursday Arts Crawl. Tour murals and public art while stopping at participating restaurants for a drink and a small bite during the Third Thursday Art Crawl hosted by the Allentown Art Museum and the Downtown Allentown Business Alliance.
LVHN Fitness Tuesday. Every Tuesday Workout in the ArtsWalk Pocket Park with LVHN from 5:30-6:15 p.m.! After you work it out, you can head over to Frutta Bowls to get an exclusive discount on one of their refreshing menu items. The first class is free! $8/class after or FREE for LVHN Fitness members. Set a reminder for your next workout now!
Picnic in the Park. Enjoy lunch & dinner specials from participating restaurants every Wednesday from 11:30 a.m.-1:30 p.m. & 5-7 p.m. while enjoying live music and yard games in the ArtsWalk Pocket Park. 
Find more information about Allentown and all of its history, happenings, and must-explores.