One of the best things about the Allentown Art Museum of the Lehigh Valley is their affinity for modern and popular art. 2012's Rock through the Valley event was a great example of the museum's willingness to bring in and display interesting, important, vibrant, and relevant arts of all types.
Well, they're at it again through June 22 with the "British Pop Prints" exhibit in the Payne Hurd Gallery.
"Celebrating the fiftieth anniversary of the musical "British Invasion," this exhibition highlights twenty three (about one-tenth) of the Museum's extensive holdings of British Pop prints. Although pop art is most commonly associated with Americans such as Andy Warhol and Roy Lichtenstein, it was actually a British invention, dating to 1956, five years earlier than American pop," according to the Museum's web site.
[caption id="attachment_19255" align="alignright" width="320"]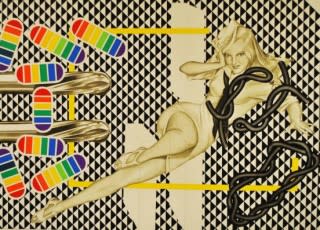 Peter Phillips (b 1939), GRAVY FOR THE NAVY, 1968/73, serigraph. Gift of Eddie Green, 1980[/caption]
"None of these prints--by major figures in British pop art including David Hockney, Peter Phillips, Patrick Caulfield, Eduardo Paolozzi, and Peter Blake (designer of the cover art for the Beatles' album Sgt. Pepper's Lonely Hearts Club Band)--have been exhibited in at least a decade, and some have not been exhibited ever at the Allentown Art Museum."
For some, the exhibit will be a trip down memory lane and an escape to a different time. For others, it is a fantastic opportunity to view some rarely seen pieces of art that may not be exhibited again for some time.
Be sure to make the Allentown Art Museum of the Lehigh Valley's new exhibit a stop on your summer "To Do" list. It'll be totally groovy.