I was not born and raised in Lehigh Valley but I've made it my home since 1981. I know local natives love their hometowns but I think transplants to the region (and visitors) have a special appreciation of Lehigh Valley.
My first introduction to the area was opening what is now the Holiday Inn Center City Allentown. The full service hotel at 9th & Hamilton Streets was the "Allentown Hilton" back then. We shared the intersection with the famous Hess's department store which was still going strong, the iconic PPL tower and a really cool bar and restaurant, The Good Spirit on the fourth corner. As a young 20 something I was excited to be working in a real city.
Life changes moved me to more rural parts of our area, so I didn't see firsthand how the downtown changed after the closure of Hess's. The city, like many others, had the wind kicked out of its sails.
[caption id="attachment_20982" align="alignright" width="320"]
Downtown Allentown[/caption]
Back in 2006, Discover Lehigh Valley's board of directors decided our downtowns needed help and that we should be part of the solution. The Alvin H. Butz construction company felt the same way and built their (our) beautiful office building right on the spot where the old Good Spirit sat. So, many years after my introduction to Allentown, I'm back on the same corner.
To use McDonald's tag line, "I'm loving it", especially in the past year. Admittedly there were a lot of growing pains with the resurgence of downtown, like horrific traffic jams, roads that made me feel like I was driving through a war zone, and the noise of heavy equipment as massive new buildings, including the new PPL Center, home of the Lehigh Valley Phantoms rose from the rubble of tired old vacant buildings.
[caption id="attachment_20984" align="alignright" width="300"]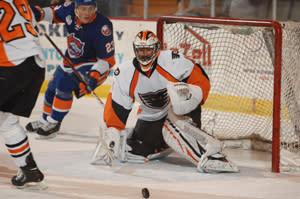 Lehigh Valley Phantom[/caption]
Now, as I walk down the block on brand new sidewalks to Lehigh Valley Health Network's state-of-the-art new gym in the arena's upper floors I pass a half dozen new and existing restaurants packed to the gills and taking names on waiting lists.
I'm not so surprised that this great downtown has once again become a showplace of the valley as I am how quickly the turnaround took place. It warms my heart to hear so many pedestrians on the street marveling at the change.
No doubt about it, Allentown is back...come see for yourself!