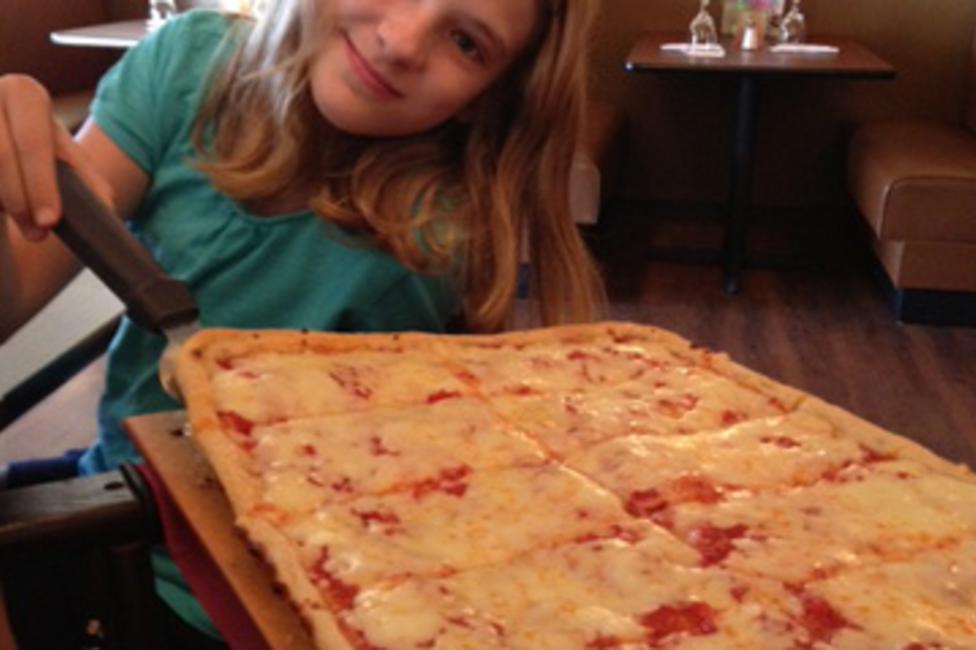 From time to time my colleagues and I like to write about food. Who am I kidding? We love to write about food, especially pizza. Pizza seems to start a huge debate. Round or square. Thin or Sicilian. American or mozzarella. Okay that might be a unique question unless you grew up in the Scranton/Wilkes-Barre area in particular the land of Old Forge pizza. This pizza is truly magnificent and finally it has made its way to Lehigh Valley.
Fratzola's Pizza Café in Bethlehem has finally made my brethren from the north smile in pure delight. And I'm here to tell you that I'm having an impact on training the younger generation in experiencing and growing to love this delicacy. Having taken my son, nephew (self-proclaimed pizza snob) and niece to Fratzola's recently they seemed to love it. In fact my niece, Abby loved it so much she wrote a blog about it.
So without further ado, here is Abigail Greenplate (age 11), guest blogger extraordinaire . . .
Pizza For Everyone

By Abigail Greenplate

Do you like  pizza? I know I do! At Fratzola's Pizza Café in Bethlehem, they have the best pizza -- EVER!! I know because I went there for myself. The food tastes wonderful. I had a plain tray (yes that's what they call it my uncle said) and chocolate cake.

They tasted DELIGHTFUL! The service was excellent. (Uncle Ry knew the owner, Frank, so we were even able to chat with him a little while) This is a great family restaurant. It has plenty of seating, so stop by and tell Frank that Abby sent you! Bon appetite!
Short and to the point. That's our Abby. It's tough to get a 11-year-old's head out of an iPad or a Kindle Fire HD (as she reminds me constantly) for a minute, so when she told me she wrote a blog I was pretty impressed. So. in closing, if you're looking to try a different pizza than accustomed to give Fratzola's a try or one of our other favorites.
Frank does have traditional pizza and all the Italian favorites on the menu as well, plus it's B.Y.O.B. That's a great feature especially when you have three kids with you, your wife, brother-in-law and sister-in-law.