By Josh Popichak
Veterans Day is one of the most sacred U.S. holidays, but sadly it's also one many people tend to forget. In many communities there is no formal recognition of the sacrifices veterans have made, but not so in Hellertown, where a Veterans Day ceremony will be held at Union Cemetery, 89 S. Main St., on Tuesday, Nov. 11 at 10:15 a.m. Mayor Richard Fluck and others will deliver remarks at the event, which is organized annually by Hellertown's Edward H. Ackerman American Legion Post 397--an organization that is truly committed to helping veterans.
I will be proud to cover the Veterans Day ceremony, and I'm also proud to be promoting it on the new local news and information website I'm launching called Saucon Source. As an established journalist who believes strongly in the importance of local, independent news, to say I'm excited about this new venture would be an understatement.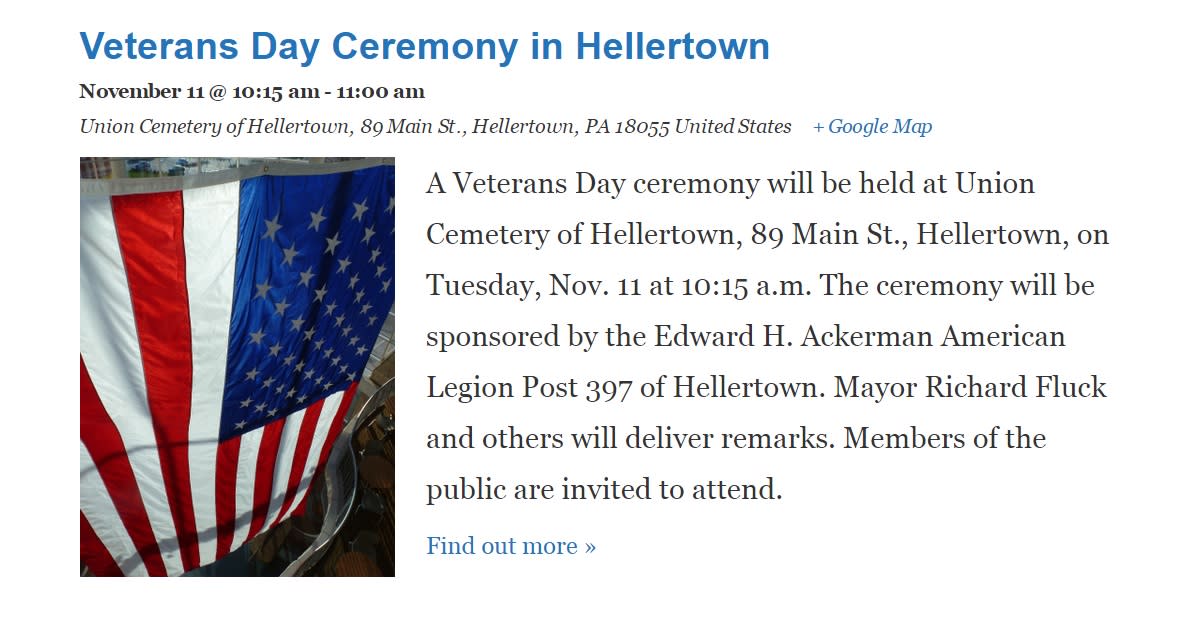 Saucon Source is intended first and foremost to be a resource for the Saucon Valley--including Hellertown and Lower Saucon Township--but my hope is that it will grow to have something for everyone, including area visitors. The mobile-friendly site features stories about local government, schools, crime, businesses, people making a difference in their community, and nuggets of information that are useful and/or interesting, but might be considered too small to feature in a larger publication. We're social media savvy, with Twitter (@SauconSource) and Facebook feeds. In fact, nearly 1,200 people have already liked us on Facebook, which to me is a strong indicator of how much demand there is for local online news.
Regardless of whether you live in the Saucon Valley or not, if you're someone who values authenticity in news, I hope you'll take a moment to visit Saucon Source. I hope you'll like what you see, and that--even its fledgling state--it will perhaps inspire you to want more where the coverage of your hometown is concerned, be it Macungie or Bath or Palmer Township. Ask yourself: "Would my community benefit from an independent local news website? Would I have a better quality of life if I knew more about what's going on in my neighborhood?" Chances are, the answer to both of those questions is "yes."
We all deserve excellent local news at our fingertips, and the more sustainable, locally-owned websites that are created, the stronger the fabric of local news in the Lehigh Valley and beyond will become. A vibrant local news ecosphere is something we all can benefit from--not just as individuals, and not just locally. I'm proud to be part of a growing movement toward that goal, and I hope to shine a light on many issues that otherwise might not get the attention they deserve. I hope you'll join me on this journey!
Josh Popichak is the editor and publisher of Saucon Source, an online news and information site for the Saucon Valley area. He has edited or written for several area print and online publications, including Hellertown-Lower Saucon Patch, The Bethlehem Press and the former Saucon News. His interests include history, politics, media, food and travel. A Bethlehem native, he lives in Fountain Hill with Ziggy, his cat. Follow Saucon Source on Facebook (https://www.facebook.com/sauconsource) and Twitter (@SauconSource).