Sometimes, it's not about the journey or the destination but the company you keep on your adventures. However, a trip along the Lehigh Valley Covered Bridge Tour with that special someone could give you both!  After all, everyone wants to have their cake and eat it too, right?
Now, for those of you not in the know, there are a few things you need to be aware of when it comes to covered bridges, no matter where they are.
First, it has been said that "the bridges are covered for the same reason our womenfolk wear long dresses. It protects the structure underneath that is seldom seen but appreciated just the same."
Second, the shade the bridges provided as a place to pause from the summer's heat was a chance for some to "steal a kiss," which led to covered bridges having the nickname of "kissing bridges."
Third, going for a drive through the country could be just the thing that you and that special someone need in order to recharge your batteries! And why wouldn't you want to do that together?
Why should you see the Covered Bridges of Lehigh Valley? Well, of the 1,500 bridges left in the United States, 250 are in Pennsylvania and seven of them are right here in Lehigh Valley. You can hit them all up in a single day or make a weekend out of it. The following are suggestions for where to stay, eat, and other fun things to do along the way.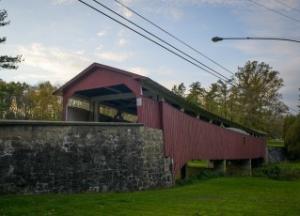 And don't forget your camera! You'll want to capture your journey AND the destinations.
Start off by staying at the Historic Benner Mansion in Allentown located a few miles from Bogerts Bridge, your starting point. Built in 1841, this historic attraction in the middle of Allentown's Lehigh Parkway is the backdrop to fishing in the Little Lehigh, one of the region's most recognized trout streams. 
From there you're heading to Guth's Bridge. Along the way, you could stop for a round of golf at Allentown Municipal, or be one of the first people in line for Dorney Park to ride the rides before it gets too crowded.
Once you arrive at Guth's Bridge, you can choose to walk or drive Wehr's Bridge. If the weather's nice, there's no question walking through Covered Bridge Park from one bridge to another is a wonderful option! These bridges are separated by just one mile, so get out of the car and stretch those legs. Guth's Bridge, built in 1858, is 17 years younger than Wehr's Bridge, which was built in 1841. Both of these bridges anchor Covered Bridge Park along the Jordan Creek.
Now depending on when you started your journey and how long you're going to be exploring Lehigh Valley, you'll want turn off the trail and head to Shankweiler's Drive-In for a movie in the evenings throughout the summer months! Then it's off to Glasbern Inn for a relaxing night's rest. This property is a beautiful inn in the country with all of the luxury and charm you're looking for in a romantic getaway. If you decide to skip the movie, you can enjoy a dinner at the inn prepared with fresh, locally-sourced ingredients. And in the morning, enjoy a full country-style breakfast before you hit the road.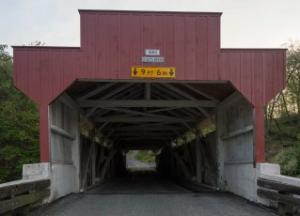 After breakfast, you'll want to hit up a store to fill up a cooler for lunch before heading off to the next two bridges: Rex's and Geiger's. These two bridges are the only two that have had their original stone wing walls covered with cement and painted white. They were built just two years apart, Rex's in 1858 and Geiger's in 1860.
Upon leaving Geiger's Bridge, you'll be close to the Lehigh Valley Zoo. Stop in and see the penguins, zebras, camels, bison, otters, many birds, reptiles, and plenty of other animals. Then before you return to the bridges, have a quiet picnic lunch in the Trexler Nature Preserve. After lunch, it'll be time to head to Schlicher's Bridge.
Schlicher's Bridge, built in 1882 and rebuilt in 1995, had its stone abutments reinforced with concrete and its wing walls were capped with cement. Although it isn't quite in its original condition, it still maintains its look.
On the journey from Schlicher's Bridge to Kreidersville Bridge, visit Crystal Spring Farm for some ice cream. The Creamery menu includes homemade ice cream in various forms including sundaes, milkshakes, floats, and banana splits, to name a few. Or, you can stop at Strawberry Acres to pick your own fruit in season or visit their store for a cup of coffee (or hot cider in season) and some fresh baked goods; pies, dumplings, cookies, muffins, and more.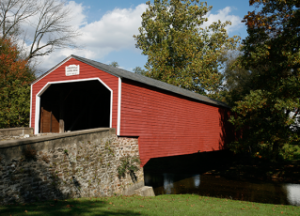 Then, on to the Kreidersville Covered Bridge, the oldest of all seven bridges along the Lehigh Valley Covered Bridge Tour. Built in 1839, this bridge known by many names including Hummel's, Koch's, and Solt's Mills Bridge, was saved in 1959 when local citizens rallied to save it from demolition.
While the golf, amusement park, and drive-in addendums won't be available year-round, this journey is for all four seasons. Spring, summer, fall, and winter all have their distinctive sights and it's worth seeing these bridges in each of those different environments.
Download the Covered Bridges of Lehigh Valley guide & directions here.