Here's our second installment of a "Look Inside the Hotels" blog. For those that didn't catch the inaugural blog, this series shows some love for our local lodging properties, and piggybacks off our regularly, weekly featured Travel Tuesday deals on DiscoverLehighValley.com.
The blog takes a similar format of our Foodie Friday blog featuring a question and answer format. We tried to steer away from some of the mundane questions that one might think, and feature some useful and entertaining questions. You might be surprised at some of the answers. So enjoy and check back regularly Tuesdays (usually twice a month) to catch a new featured property.
This week we sit with Laura DiLiello, Owner of the beautiful historic Lafayette Inn.
Discover Lehigh Valley (DLV): What makes your property different or unique?
Lafayette Inn (LI): We are housed in an 1895 Georgian Mansion, listed on the National Register of Historic Places. We are family owned and operated, providing personal attention to all of our guests.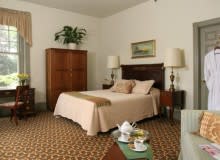 DLV: What's your best room/suite, and why?
LI: All 18 of our rooms have their own character and charm but room 11 which offers a gas fireplace, whirlpool tub, private balcony, stunning antique bed and armoire is our top pick.
DLV: What are your best amenities?
LI: Delicious homemade breakfast, 24-hour coffee, soda, and homemade treats, Wi-Fi, which all are included in our rate
DLV: If your property offers food, what is your most popular dish, or something that you absolutely have to try?
LI: We are famous for our homemade granola and our signature pecan chocolate chip cookies, not to mention our made-to-order omelets and fluffy Belgian waffles.
DLV: Have you ever hosted a celebrity/celebrities? If so, who was the most fun? LI: Yes, many. Lily Tomlin was our favorite. She was so gracious, funny and let us take tons of photos with her.
DLV: What's your busiest time of the year?
LI: Definitely fall when Lehigh Valley is so beautiful.
DLV: When is the best time to stay at your property?
LI: Very early spring when the front lawn is absolutely covered in tiny purple crocuses.
DLV: How does a guest get the best rate at your property?
LI: By calling and talking with us directly.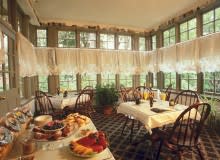 DLV: Do you serve breakfast? Is it included in the rate?
LI: We sure do. And of course, we wouldn't have it any other way.
DLV: Is the property pet friendly?
LI: Yes, we have three rooms were pets are welcome.
DLV: Does the property have a bar?
LI: Sorry we do not. But downtown Easton is just minutes away and offers great options.
DLV: Does the property offer free parking?
LI: Absolutely.
DLV: What should one know about your property before arriving?
LI: We are in a residential area just two blocks from Lafayette College, and just one mile from Center Square Easton.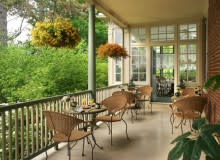 DLV: One question and answer that you would like people to know?
LI: We are often asked whether we are a hotel or a bed & breakfast. Our answer is simply yes. We offer the best of both worlds; the quaint individual character and personal experience of a B&B with the privacy, services and amenities of a fine hotel.
The Hotel is located at: 525 W. Monroe St., Easton, PA 18042 Phone: 610-253-4500. Website: www.lafayetteinn.com
Thanks so much for the time Laura. So Lehigh Valley and beyond, if you're looking for a unique property that's open 365 days a year and is a member of the Select Registry – Distinguished Inns of North America check out the Lafayette Inn in Easton. Tell Laura we said hello. Please check back on Tuesdays as we will feature another great lodging property soon.