Piggybacking off our regularly, weekly featured Travel Tuesday deals on DiscoverLehighValley.com, I'm going to give you a look inside of some of Lehigh Valley's beautiful lodging properties.
This blog is going to take a similar format to our Foodie Friday blog featuring a question and answer format. We tried to steer away from some of the mundane questions that one might think, and feature some useful and entertaining questions. You might be surprised at some of the answers. So enjoy and check back regularly on a Tuesday to catch a new featured property.
Our inaugural "A Look Inside the Hotels" blog features The Staybridge Suites Allentown Bethlehem Airport. Thanks to Meygan Young, Director of Sales & Marketing for taking the time to chat.
Discover Lehigh Valley (DLV): What makes your property different or unique?
The Staybridge Suites Allentown Bethlehem Airport (SS): Our property is an all-suite property that caterers to guests staying long term. We currently have guests in-house that have been with us for years. Our guests are like family as we provide superior guest service and amenities!
DLV: What's your best room/suite, and why?
SS: All of our suites are the best. However, our most popular one is our two bedroom, two bathroom suites. This room type consists of two separate bedrooms each with its own bathroom and a common living room area. It can accommodate up to eight guests comfortable. Not many can say this.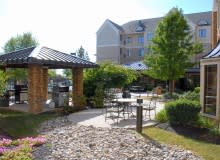 DLV: What are your best amenities?
SS: Our evening social Tuesday through Thursday from 5:30-7:30 pm, plus complimentary 24-hour airport shuttle to Lehigh Valley International Airport, as well as anywhere within a five mile radius, complimentary wired and wireless internet, complimentary onsite laundry facilities, fitness center, heated indoor whirlpool and outdoor pool, and last but not least a beautiful outdoor courtyard area featuring two gas barbeque grills and fire pit.
DLV: If your property offers food, what is your most popular dish, or something that you absolutely have to try?
SS: We do provide a complimentary deluxe continental breakfast served daily featuring four hot Items including our most popular breakfast dish the "Make Your Own Waffle" station with all kinds of toppings.
DLV: Have you ever hosted a celebrity/celebrities? If so, who was the most fun?
SS: We have hosted a few celebrities here. However, the most fun would have been Hulk Hogan and his friends including the old time wrestlers such as the Nasty Boys, Rodney Piper, and others.
DLV: What's your busiest time of the year?
SS: Our busiest time of year is April through September when we serve as the preferred hotel for the Lehigh Valley IronPigs and host all visiting teams and players.
DLV: When is the best time to stay at your property?
SS: Any season is a great time to stay with us. The property is centrally located to major attractions such as Dorney Park & Wildwater Kingdom, the Crayola Experience, Blue Mountain Ski Resort, Sands Casino Bethlehem, Coca-Cola Park and the soon to be PPL Center which will host the Lehigh Valley Phantoms.
DLV: How does a guest get the best rate at your property?
SS: To receive the best rate, guests can simply contact our knowledgeable front desk staff at 610-443-5000 and inquire about our Best Flex Rate and discounts. We do welcome AAA, AARP and other member associations. You can always visit our website, www.staybridge.com/allentownpa, as well.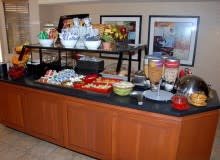 DLV: Do you serve breakfast? Is it included in the rate?
SS: We do provide our aforementioned deluxe continental breakfast buffet featuring hot items, which is included in our guest's rates.
DLV: Is the property pet-friendly?
SS: We are a pet-friendly property but require a nominal, non-refundable fee of $75.
DLV: Does the property have a bar?
SS: We do not have a bar onsite, but don't worry; we are within walking distance to seven bars and restaurants. Also, don't forget our evening social where we do provide complimentary beer and wine.
DLV: Does the property offer free parking?
SS: We do offer complimentary parameter parking and can also accommodate motorcoach vehicles.
DLV: What should one know about your property before arriving?
SS: Our guests should know they will experience the sweetest stay of their life with superior guest service, knowledgeable, and a bi-lingual staff. And our property is located within minutes from shopping, dining, entertainment and sport complexes.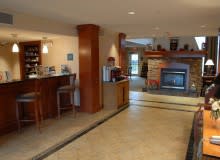 DLV: One question and answer that you would like people to know?
SS: In addition to hosting extended stay guests we also have rates for guests staying one through four nights. We do offer group block rates and have an onsite boardroom.
The Hotel is located at: 1787 A Airport Road, Allentown PA 18109 Phone: 610-443-5000 Website: www.staybridge.com/allentownpa
Thanks so much for the time Meygan. With the last name of Hogan, I wish I was there to meet the Hulkster, but i did get to meet the Nasty Boys. So there you have it Lehigh Valley; our inaugural "Inside the Hotels" blog. I hope you enjoyed it. Please check back on Tuesdays as we will feature another hotel twice a month.