Those of us that live in the Northeast know that it has been a brutal winter and we would do anything to skip over spring and go right to summer. Sure, we've had signs that warmer weather is coming with one "warmish" day here or there, and then we'd be right back to cold temps. The poor flowers don't know which end is up, and I'm sure all the parents out there are going stir crazy trying to find new indoor activities to keep their kids at bay.
Well, one sign that may give us hope that warmer weather is here to stay, is the date of May 1, 2015. That spells the opening day of one of our favorite summer attractions in Lehigh Valley, Dorney Park.
Dorney Park used to be my summer "home" as a kid. I remember endless rides on the Flying Dutchman, the Bucket O' Blood, Journey to the Center of the Earth, and ThunderHawk, which back in the day was simply known as The Yellow Rollercoaster and happens to still be in operation today. To get on these rides you actually used tickets. A ticket book could be purchased, or you could buy just enough to get on the rides of your choosing. I was lucky enough to have had an inside connection to the park. Most of my relatives lived along the service and entrance road to the park. My aunt and uncle actually owned a home in the parking lot and made lots of friends with the parking lot attendants who supplied us with endless amounts of tickets. Those were the days!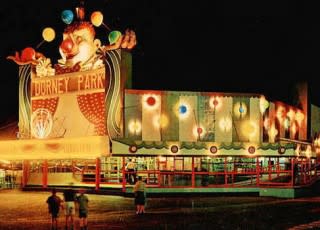 Some of the other things I remember about the park back then was that it didn't have the Peanuts characters as its claim to fame, but it did have Alfundo, a clown figure that adorned the park's entrance. And, as soon as we entered the park we used to feed the enormous sized fish in the cement-walled pool. Fact: In 1884, the property was renamed Dorney's Trout Ponds and Summer Resort" as it was initially a fish hatchery along the Cedar Creek. Also, Wildwater Kingdom was not in existence back then. That would have been an awesome way to cool off on a hot summer's day.
Another part we enjoyed was Castle Garden, which was located by the old entrance to the park. This was a place where we got our groove on by either dancing the night away or roller skating to the hits of the '70s and '80s. Castle Garden was sadly destroyed in a fire in 1985. There also used to be a fantastic Chinese restaurant where I acquired my taste for Chicken Chow Mein as a kid. Mandarin House was the name of the place, but mind you, my taste buds have evolved greatly since then!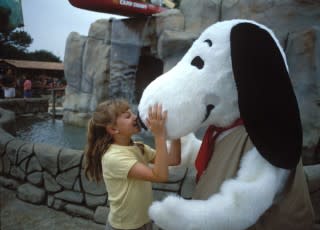 So much has changed over the years, and each year they keep adding to the park. Of course, there is no need for tickets for each ride anymore. One ticket will now get you into two great parks; Dorney Park & Wildwater Kingdom. The park has more than 100 rides and attractions, featuring eight roller coasters and plenty of exhilarating thrill machines. Planet Snoopy offers a great selection of kid's-sized rides that allow parents to ride along. Wildwater Kingdom offers over three dozen slides, pools, lazy rivers and play areas for kids of all sizes. I have to admit that while I prefer the lazy rivers, one of their newest attractions, Snake Pit, offers the thrills that most park enthusiasts are after.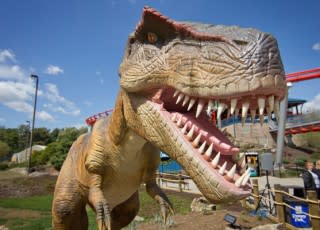 One of my newer favorites has to be Dinosaurs Alive, which was brought to life in 2005. You'll need to purchase a separate low-priced ticket to get into this attraction, but it is definitely worth it for those T-Rex lovers in the group. You'll find more than 40 full-sized animatronic creatures to photo bomb with. Some of them you are actually able to maneuver with remote controls.
You'll also want to check out a show while you're there at no additional cost. Returning for 2015 is the All Wheel Sports show, which features bikers and gymnasts that will flip, dive, and do stunt tricks to keep you amused in the Good Time Theatre. There are plenty of other shows, you'll just need to check their calendar to find out what's going on while you are visiting.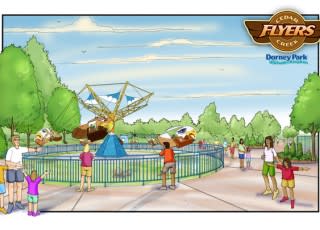 So, what's new for 2015? The Cedar Creek Flyers ride. This ride will be located in the lower section of the park. Riders will enjoy flying through the air 28 feet above the ground like eagles soaring.
In addition to Cedar Creek Flyers, the dining experience will also be kicked up a notch with the addition of Smokehouse Barbecue, which will feature pulled pork, hush puppies, smoked beef brisket, and more. Also, if you are a season pass holder, there is a new dining plan that will entitle you to lunch and dinner each time you visit at certain participating locations throughout the park.
Are you planning to visit the Dorney Park & Wildwater Kingdom this summer? (Note: Wildwater Kingdom opens May 23, 2015.) If so, here's my "Top Five Tips For Enjoying The Park":
Buy a souvenir drink bottle! You can buy it online and save $4 off the price you would buy it at the park for. So, for $10.99 you get a souvenir and free refills on your first day at the park. And, if you visit again, bring it along and pay just $.99 for refills! That is one heck of deal considering the fact that you'll need to stay hydrated for multiple hours.
If you're planning to visit on a weekend, the park can get very busy. Consider purchasing a Fast Lane Pass or a Fast Lane Plus Pass. Again, you'll want to purchase these ahead of time online for the best deals. Each pass gets you different perks, by bypassing regular lines on certain rides and attractions all day long. These passes are limited in number, so get yours early!
Need to save a buck or two … or three or four? Can't afford to stay all day and pay for food and drinks? You are able to bring your own food and beverages with you, but you cannot take them into the park. There are picnic tables located in the parking lot for your use. You may not grill or have any sort of open flame. So, pack up your ice chest and be sure to get your hand stamped if you plan to re-enter the park! Note: re-entry is not permitted after 6 p.m. or during their Halloween Haunt season.
Plan accordingly! Dorney remains open during rain events. There are no refunds or rain checks that will be given should you encounter bad weather. Most of their rides will remain open, or if it is unsafe, you can choose to take in another part of the park that may be undercover.
Make it a two-day adventure if you want to enjoy both parks and take in all it has to offer. You can spend one day on the rides and another on the slides! There are plenty of hotels offering packages and discounted admission tickets so you don't have to wait in line to purchase at the park on your day of arrival. Check out all the savings and start planning your adventure here, www.DorneyDeals.com.