Black Friday – the continuation of the overnight shop 'til you drop marathon. Whether you're hoping to complete your holiday list in one go like a champion, or you're casually enjoying the fun and antics that this day brings, one thing (other than sales) that you shouldn't miss is the Peace Candle lighting ceremony in Easton.
Festivities kick off at 5pm with a variety of family-friendly activities around town, including live music, refreshments, an ice sculpting competition, and a Santa parade just to name a few.
In honor of the long standing tradition, which first began in 1951 as a way to honor all holiday traditions, everyone will be able to enjoy free metered parking all day with free metered parking continuing every weekend until Christmas.
A full schedule of the evening can be found here, or by downloading the Downtown Easton smartphone app.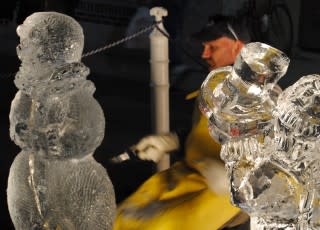 The pinnacle of the evening, the lighting of the Peace Candle, will take place at 8pm in Centre Square. Each year one lucky Ebay bidder has the opportunity to become The Official Illuminator of the largest non-wax candle in America.  This year the winning bid topped 39 others at $610. All proceeds go back to funding the community event.
While you're downtown don't forget to vote for your favorite holiday window display, as over 35 merchants participate in the competition this year.  Voting ends December 24th.
After the evening comes to a close, head over to Porter's Pub to check out their new house band The Depas. They'll be playing until midnight, which will give you plenty of time to put a dent into Porter's Mug Club brew list.